Review of Album Life Colours by Antonio Simone

Album: Life Colours
Artists: Antonio Simone
Total Time: 43:72
Piano has a unique depth that is almost inimitable. Imparting sound by striking the tense/stretched strings, it brings out moods that are subtle, energetic and moving. A pianist, at the same time, appears like a ring-master, who sits confidently on the stool and ready to finger-signal the lions (keys) to make their movements. Indeed, a pianist, sitting in an assured posture and attuned to music with closed eyes with a bit of up-bent head, is literally a treat for the eyes, not to mention that the music of piano is a treat to the ears.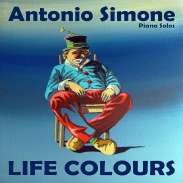 It is in such feelings that you will end up listening to the album "Life Colours"–a solo composition by Italian pianist Antonio Simone. Though the length of the CD would make you desire you for more, the collection still takes you through the varied moods (Rāg–Indian name meaning mood, color, attachment).
The album opens with a refreshing piece "Seascapes"…you can imagine yourself opening up a window by the sea-side and letting the sunrays enter your chamber. The breeze and voices of whitecaps played melodiously in this piece brings you back to the world of activity from overnight slumber.
As you move to the second composition, you can continue your imagination by standing on a sea-side and being nostalgic about somebody, who is close to your heart. In fact, for a spiritually oriented person, this piece helps in attuning oneself in the meditation.
The title song "Life Colours" infuse a new vigor into your imagination where the being of the listener in playful and in festive mood.
It goes without saying that the compositions are well selected and placed to take the listener through a reverie, traveling through various moods of existence and imagination.
Music is all about feelings–the more you feel it, the more you enjoy it. In the fast-paced world, music is one such instrument that helps in bringing serene calm to the mind and body. The album, "Life Colours" is a beautiful collection and great effort from Antonio in giving the listeners something to tune themselves to some pure sounds.
| | |
| --- | --- |
| Track | Time |
| Seascapes | 03:29 |
| Thinking of You | 03:58 |
| Life Colours | 03:19 |
| A Rainy Sunday Morning | 04:04 |
| Lonely Path | 02:44 |
| So Far in Time, So Sweet in Memory | 04:42 |
| Kendra's Song | 03:57 |
| The Forgotten Room | 05:05 |
| Remembering Nenna Né | 02:33 |
| The Vanity of Things | 04:52 |
| Running Through the Meadow | 02:53 |
| Back to Bach | 03:53 |
| Little Thought | 01:23 |