"Wondering" – Album Review: A Companion You Can Always Trust In

For most part, life is a kind of search for us, which happens deep within our consciousness. A lot of people may surround us in real life, but none of them can assist us in this inner search. Yes, we are solitary travelers left to journey all alone.
Often when life feels hopeless and frustrating, we need someone or something to fall back upon. A lot of people find music as their trusted companion during trying times. Trust me! Music is the true elixir of life. It nourishes you when you feel drained and comforts you when you are fatigued.
Stephen Wallack says, "I have found that my search for answers has been a complicated and at times, frustrating one. Music has provided me with a much-needed backdrop on which to reflect on this search and has allowed me to find comfort in a very uncertain world." Having discovered the power of music, Stephen sets his hands on producing a line of albums to create fitting companions for his audience too.
The background
Stephen started learning piano at the age of five. He had a natural affinity for music as his older siblings constantly listened to music. At the age of 12, he got introduced to 'December', George Winston's album. The album helped nurture Wallack's musical knowledge, skills, and imagination. He drew inspiration from several artists and started producing music that flowed from his imagination.
After laying the foundation through formal learning, Stephen Wallack built his musical kingdom through exploration. The self-taught artist was never hesitant to step beyond genre stereotypes in order to produce fresh music.  'Wondering' is his fifth solo piano release which followed four full-length albums titled 'Chapters', 'Stories', 'Reflections', and 'Colors'.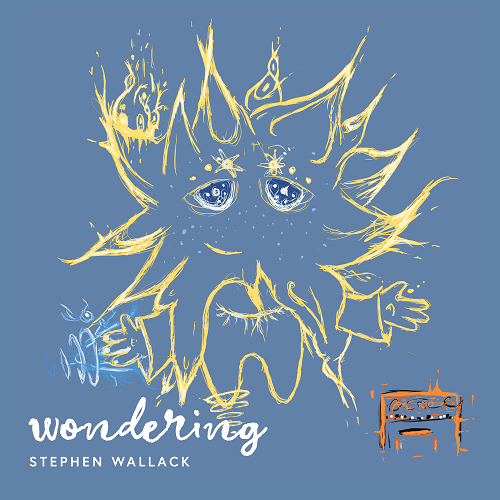 Gift of Love
If 'INSPIRATION' and 'REJUVENATION' are two important reasons why you want to listen to music, you will find 'WONDERING', one of the most fulfilling albums you had a chance to listen to. Composed by an artist of astounding caliber, 'WONDERING' is here to inspire many.
As an inspired artist, Stephen gifts 'WONDERING' to all his audience hoping that this incredible album will "allow his listeners to take time to reflect and discover answers they are searching for." Personally, I found Stephen's stupendous composition stirring my imagination and waking me up to a new understanding of myself and life. Let me walk you through the different tracks of this album.
#1. Beyond (4:44)
Massive rivers start their journeys as little drops. The solo artist begins his musical treat with an exploratory piece. The soft but deep notes of the opening track 'Beyond' probe into your spirit urging you to look at what lies beyond the world you perceive with your five senses.
#2. Castles (5:22)
Castles not only refer to the huge buildings made for royal families. You can also build your own imaginary castles that can be equally grand but cost you nothing. Often such castles add more meaning to our boring lives. 'Castles', the second opus of the album is a marvelous piece that builds a virtual castle in your imagination to touch the skies within a short spell. 
#3. Deep (6:29)
Our inner worlds are deeper than the deepest of oceans. While nothing on this earth has the power to get into the depths of our consciousness, inspired music has the ability to touch the deepest point in a profound way. The third track 'Deep' must be listened to in a pensive mood of contemplation to get the most out of it.
#4. Remember (5:23)
Beautiful moments in life cannot stay with us for eternity. However, it is always possible to live those moments virtually in our hearts, whenever we need some inspiration. The melodious notes of the fourth opus 'Remember' is nostalgic in tone. When you want to reinvent some nice memories of the past, live with this track over its duration and it is done.
#5. Sorry (4:26)
Most times, the hurt we may inflict on our dear ones is not intentional. Often we become slaves to our circumstances and moods causing some unpleasant damage. Sorry is a great word that comes to our aid when we genuinely want to apologize for our mistakes and shortcomings. One of the best tracks on the album, 'Sorry' is a pleasant-sounding opus that has a mending effect on our hearts.
#6. Bridges (4:59)
Life is not a smooth road always. In our paths, we might need some bridges to cross the trenches and deep-lying valleys. Music can help fill the gaps in our inner journeys and make the road easier to walk through. The notes of the track 'Bridges' work to fill the missing gaps and create a smooth track inside of us. 
#7. Games (3:55)
Games help beat the monotony of life and add some spice to the otherwise boring existence. There is no age to play, though the games we choose may differ during different ages. 'Games' is a unique member of the album and feels like taking us back to our childhood when we gamed with fewer restrictions.  
#8. Royals (4:24)
Wealth and physical achievements are never a constraint to feeling royal. Royalty is essentially a state of mind. When you want to feel elated, listen to some inspiring music and you are there in the world that you always dreamt of. The eighth track is a meticulous bundle of notes that heighten your confidence and prepare your mind for a stately existence. The skilled work of the artist brings the graceful dance of a princess in front of your eyes.  
#9. Wolves (4:34)
Life's journey can also bring some unpleasantness at times. You may meet some unworthy people who might scorn you and make fun of you. However, you are not to lose your heart. Keep your eyes set on your path and your heart set on your cherished goal. The unique message of the ninth track titled 'Wolves' can be an eye-opener too.
# 10. Goodbye (2:54)
Many times, saying 'Good Bye' is not a pleasant thing. Parting from our dear ones can feel like a heart-wrenching experience. The last track 'Good Bye' is a short and sweet composition. In this opus, the heart-touching tunes bid good bye to the audience. As the melodies engage in an intimate conversation with your sentiments, your heart starts feeling heavy and you will want to come back to the album very soon.
Final word
In the world of music, some creations do stand out and continue to inspire the listeners. Such productions inspire many such works too by setting a new trend. If you have always wanted to find some great music that can assist you in your inner search, 'Wondering' is an album you must never miss. I found the time I spent with these tracks is really worth it and I am sure you will feel the same way.