Album Review—Many Branches by Lynn Tredeau

Life Lessons From Nature:  Reflections In Solo Piano Notes
Sitting at my desk to pen a review for Lynn Tredeau's album "Many Branches", I am reminded of William Wordsworth's lines,
"One impulse from a vernal wood
May teach you more of man,
Of moral evil and of good,
Than all the sages can."
An avid lover of nature, Wordsworth saw nature as a celestial teacher impregnated with lofty wisdom to nurture human's outlook, perception and understanding of himself, life and everything lying beyond. Lynn seems to continue the Nemophilist tradition of the poet, now across her creations in music. "Many Branches" is Lynn Tredeau's musical mission to read the nature deeply and cull out some philosophical reflections in her music. Eventually, she narrates the quintessence of human life in the light of this understanding.
Inferences from the artist's notes
For Tredeau, a tree is a perfect allegory for human life. Seasonal cycles see a tree in different colors and conditions. Growing to full height over several years, during the process a tree grows several branches and loses a few. In the same way, during its journey in time, human life is replete with gains, losses, elations and disappointments. Similar experiences keep repeating in different people's life of course in different flavors and intensities.
About the artist Lynn Tredeau
Solo pianist Lynn Tredeau is an exceptionally gifted artist highly known for her emotional story telling capabilities in music. Her musical journey began during her early childhood under her father's inspiration. Receiving piano as a gift from her parents at the age of six, she has been composing music for so long and could achieve an enviable proficiency, dexterity and command over classical piano.
Her extraordinary ability to connect with her audience won her multiple accolades. Across several radio stations, she held top 10 positions for a long time. Steve Sheppard of One World Music Radio described her mastery of piano as "both gentle and artistically clever". 'Many Branches' is undoubtedly a gemstone among her accomplishments.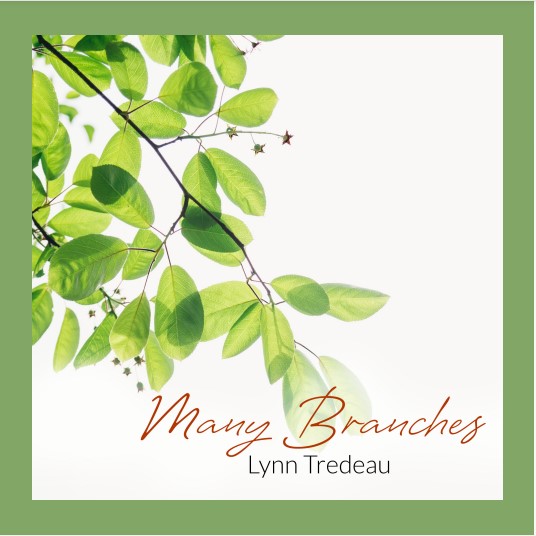 Many Branches – A Musical Marvel
As a solo piano accomplishment, 'Many Branches' is certainly a musical marvel. Each of the songs wears a unique charm conversing deeply with the listener's mind and evoking subtle emotions. The result is a profound philosophical reflection of an unearthly kind, but intimately connected with life's experiences. Tredeau's silky but profound musical notes achieve such an awesome mission with the listeners without requiring any decoding in a human language.
How do the tracks feel like?
Jonathan Widran of The JW Vibe says the album was "Melodically Soul Capturing" for him. Getting his soul soaked by these tracks, I am sure any keen listener will share the same kind of observation.
The opening track, "Room With A View" opens up some magical scenes of nature in front of the listener. As you get engrossed into the delightful tunes, you start discovering that your heart has already escaped on a celestial flight to discover myriad lessons for life.
"Sunshine Tomorrow", the second track is a pure delight caused by softly caressing piano tunes carrying the comfort of the morning sun's mildly warm rays after a cold night. In the third track "On a Distant Hill", the listener goes on an ecstatic escape traversing through the widening ranges of natural beauty.
What follows in the fourth track "Sail Away" is a short sea bound voyage that surfaces some unusual kind of reflections on human life. The ending nearly mesmerizes you and leaves you absorbed within your deep self.
The fifth track 'Moon Jellies' evokes an altogether different mood something you might feel under the soft moonlight of a full moon day when the weather is at its best. The silky notes cajole you and comfort you. 'Desert Rain' is one of the longer tracks in the album wearing a unique charm. You feel your heart is drenched in coolness as the chill water of a mountain spring will comfort your parched throats.
Take imagination out of life and the majority of its charm and thrill are lost. 'Envisaging' is an admirable composition that unfolds layers of inspiring panoramas in the realms of your heart.
'Ilunabarra' or the time of sunset is the title of the eighth track. The theme is well developed in the song with the artist demonstrating her perfect command over the classical piano. Sun sets only to rise in the morning. Similarly, changes do happen in life for betterment.
'Carousal', the ninth track is indeed a masterpiece in the album deserving a special mention. The long winding notes mimic the effect you discover while riding carousal with the captivating tunes enthusing your consciousness.
Reach the tenth track and you are in for a surprise. 'Shadows' is an interesting musical piece that reflects on the impact our life on the earth. The final notes leave you wondering to which plane you have reached.
I found the eleventh track named 'Technicolor Blanket' a distinguished composition in the album. The effect of the musical treat is soothing and uplifting with a lot of messages radiating from the tunes and making you see life in a novel light.  
Take Away
The musical voyages in all of these tracks set you with softly thrilling journeys inside your deep self. These journeys do not exhaust you; rather they rejuvenate you with a new spirit. With every succeeding song, you seem to grow and discover newer philosophical reflections. The impact that the songs have on your consciousness is almost magical. At the end, you feel an exhilarating sensation that has deeply cleansed you and transformed your perception of life and yourself. In short, Tredeau's 'Many Branches' is a rare kind of album worth listening time and again when you seek a newer perspective of life.