"All the Best Returns" – Album Review: Music Is Soul's Companion

Encouragement fuels our life's journey like nothing else. The motivating words we hear from our loved ones help pump excitement into our fatiguing travels. Therefore, life just keeps going with all its ups and downs. Well, if we look for motivation of a supernatural kind, the instant answer that hits our minds is INSPIRED MUSIC. Yes! People have been turning to music for inspiration and resurgence for so long. However, to best address such a tall need, we need gifted artists to paint those sound pictures that can directly converse with our souls.
Recently, I came across Robin Spielberg's piano solos for a new age compiled into a theme-based album.  It is such an estimable work that needs no review to be able to appreciate it. The dexterity with which the artist has used the piano chords to produce such a mesmerizing work in music is a testimony to the surface of the exceptional talents she has gathered over her career in music. ALL THE BEST RETURNS is a rare musical production you can't afford to miss if you are looking for music that stirs your soul for good.
Produced to celebrate resiliency, hope, and the power of positive thinking, the composer explains her objective in creating this album as, "For decades, I have signed my personal letters, 'All the best, Robin'. When we give one another birthday greetings, it is customary to wish one another 'many happy returns'. This album is my wish, in music, for the listener to enjoy many happy returns in their own lives."
Passionate about exploring how music can promote people's physical and mental health for more than 23 years now, Spielberg has produced some exceptional musical works for the American Music Therapy Association. She is also one of the founding members of the Mindful Music Association. She is popular for her TEDx talks on Music and Wellness and has conducted workshops and seminars on music and mental health. So, the artist's background should give us a strong hint about what to expect from the album.
In the few paragraphs below, let us enjoy this exceptional musical work now.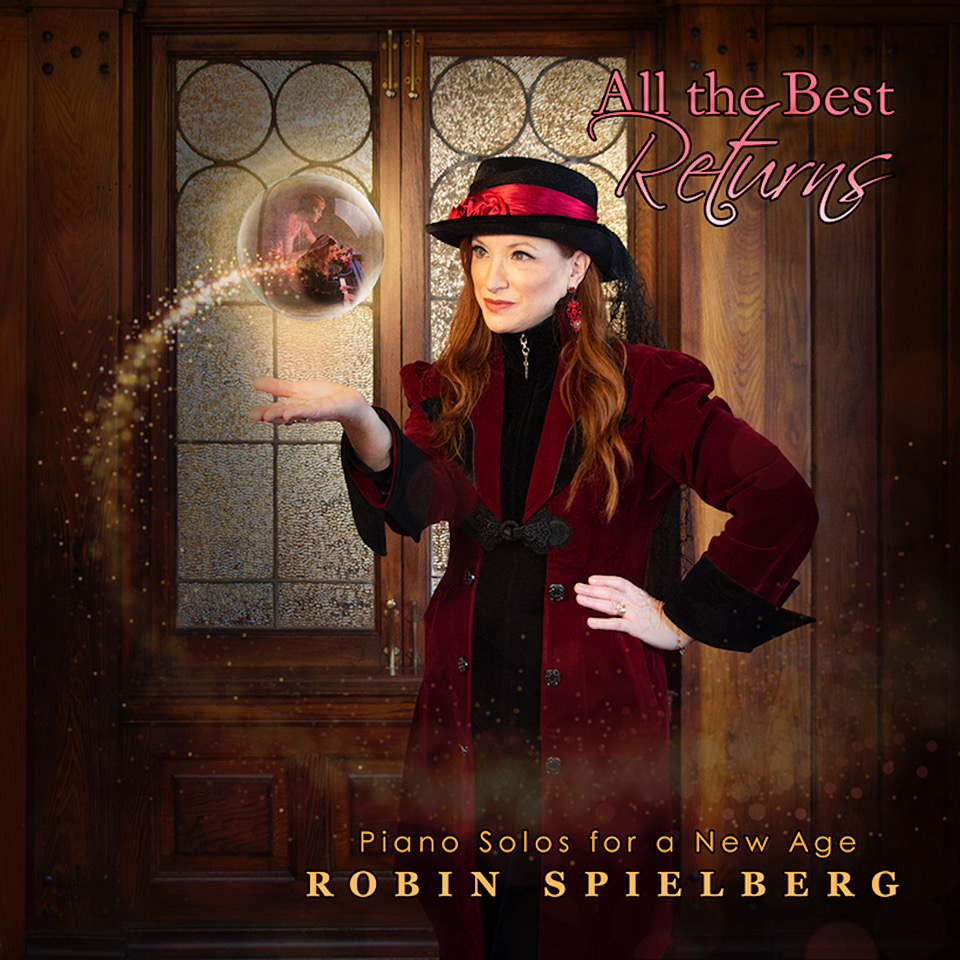 1. In Search of the Forest Fairy (4:36)
Fairies are not the subjects of tales alone. Whenever we are in search of better opportunities and boons in our lives, we are on the lookout for fairies in real lives too. The moments when we receive blessings for our efforts and prayers, our joys overflow the boundaries and inspire others too.
'In Search of the Forest Fairy' is the opening track of the album. The artist has breathed a lot of energy into this composition in the way she has arranged the notes to accompany the soul's search. Deep into the woods of our life experiences, we are taken on a hunt for lucky chances that will transform our lives. Finally, we confront what we have been waiting for so long.
2. One Step Closer (3:48)
When we feel we are nearly drained out during our hunt for opportunities, a small push and a little word of motivation can give us the much-needed energy to move one step closer to placing our feet in the dreamland.
The piano notes of the second track titled 'One Step Closer' carry a lot of hope and optimism about them. From the beginning, the notes are soothing and comforting. As the track progresses, the energy builds up and the notes get more energetic in motivating the listener for a brisker journey.
3. All the Best Returns (2:50)
Named after the album's title, the third piece 'All the Best Returns' is the real masterpiece of this album. The best intention of the author is to inspire her audience through the gift of her music showing her humanity. In fact, she seems to have achieved this lofty purpose in this album, especially evident in this opus.
The thoughtfully created notes help weave a story into music and we feel a kind of blessedness descending into our spirits. Towards the end of the track, we feel we want to listen to this opus once more to deeply relish the positivity it promotes in us.
4. The End Of Summer (4:45)
Towards the end of summer, nothing big has changed about the climate. However, our perception of the world and life has already begun to change. A big ray of hope lights our hearts indicating that pleasant days are on the way. Such hope refuels us and prepares us to invite happy days of comfort, joy, enthusiasm, hope, blossoms, colors, and nourishment.
'The End Of Summer', the fourth opus is a great musical work in piano notes. The artist has ably invested in the power of music to suggest to her audience that there are still promises to be unwrapped in life. We begin to feel that life may have a better meaning which we are yet to discover.
5) Shche ne Vmerla Ukrainy (3:40)
Placed as the last and concluding track in the album, this is the instrumental version of the Ukrainian National Anthem which Robin Spielberg has arranged in a meticulous fashion.
The national feeling is a very powerful charging force we all have experienced several times in our lives. Arranging Ukraine's National Anthem on her piano is a great idea that has become a kind of icing on the cake, making this concluding piece a thoughtful addition to the album of this kind.
As we leave the album, we feel innervated with a special energy. This is definitely a kind of exalted state we have always craved to land in.
Take Away
Blossoms are reserved for the spring season. Coming across exceptional musical work is not a common experience we can hope for at any given time. Robin Spielberg's album is certainly a masterpiece in the world of therapeutic music, especially during troubled times. In clearing the metal block we have developed over time and in pumping energy into our unwilling souls, she has proved her real caliber as a champion in producing music for healing and stirring souls. Carry these observations from this review and take the time to listen to the album very soon. You will love it for sure as I have loved it myself.