Interview with Band Mardi Gras–the Italian flavor

Mardi Gras hails from Rome, they stole their name from the latest Creedence Clearwater Revival, "Mardi gras " was their last studio effort. Being in love with Ireland and being regular visitors and in touch with the Dublin scene their first demo "The moon ep" was an irish-only release. The Irish magazine "Hot Press" reviewed it in the "Demo Dip" section hosted by Debbie Shkow. Their first release "Ballads" – a three tracks ep- was released on Mardi Gras Day 2001.
"Ballads" is well received by public and by the musical press. After a bunch of live gigs all over the country and their involvment with Amnesty International, who invited the duo to perform their new song "the wait"during a conference about America and the death penalty, from January 2004 "Ballads" is even available in Dublin.
The band eventually released their first full lenght cd "drops made" they tour Italy, and play support for such acts as The Frames (Swell Season – "Once" Movie), Circulus , Micah P Hinson, TKO, Noah and the Whale before headin for an Irish Tour even headlinin Whelans in Dublin.
"the wait" is currently listed on Neil Young Songs of the times, a section of his official website, where the Canadian legend listed all the peace and protest songs since the 11th September aftermath, all the songs are personally chosen by Neil Young.
Their growing myspace success lead the band to be amongst the most popular Italian acoustic acts and its fan base continued to grow.
We had an email interview with the band Mardi Gras.
Q1. Tell us how the band came to life. What drove various members to collaborate?
Fabrizio: It's been a long journey so far…it all started with a couple of acoustic guitars, a bunch of lyrics and few stories to tell, few cover versions and a different singer (Six). I can remember the first gigs we did in Roma and in few festivals around Italy. We become aware pretty soon that the songs were askin for more colours and more vibes…so, the band eventually added a double bass (Davide Iacoangeli, now running a very cool rock venue called "Traffic") and a drum (Alessandro Fiori) to the line up, and this four piece released a cd called "drops made" back in 2006 and toured Italy and even Ireland a place like home for us, 'cause we always been appreciated by the press and the radios over there, we even shared the stage with amazing irish artists like The Frames, Mundy, Tko and Siobhan O' Brien, so it was a sort of high school and an homecoming for us in a sort of way. When we performed on the stage of Whelans, one of the most important venue in Dublin, we felt so honoured and blessed.
Over the years the line up changed again and now we have an electric bass (David Medina), a piano (Alessandro Matilli) and an electric guitar (Alessandro Cicala), and I have to say that this is the best Mardi Gras line up ever. Claudia McDowell (vocals) added an extra flavour to our human and musical journey, she's half Irish and only now I feel we are a real band, going in territories we never been before, ready to experiment more…pushing the boundaries. Before this line up, the songs were just sketches, an unfinished painting, like when you throw colours on a white blanket, you dont have a final vision, but just spots where you can see and feel something…now I can see a real picture…even if I always loved the out of focus, I felt we needed straight colours this time around…and our live shows are more emotional and powerful…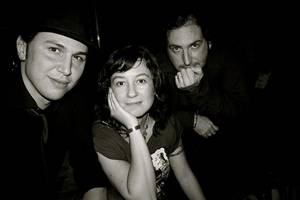 Q2. What's in the name–how was it picked?
Fabrizio: I stole the name from the Creedence Clearwater Revival, Mardi Gras was their last studio effort, you see I find very hard to pick up a name for a band, a  band name have to tell the world who you are, the clothes you wear and the way you walk…and I remember exactly how the name was picked…I was there in front of my music collection, vinyles, cassettes and cds, and when I saw "Mardi Gras" I suddendly felt it was the right name…70's rock and roll…the music stripped down, emotional, raw and soulful, that's what i wanted and what I want still now…then I discovered the connection to the New Orleans Carnival and its parade…It was great when through myspace we had the chance to get in touch with a lot of people of the Big O, who were curios about an Italian band havin such a name.. I personally supported the Music Rising Organisation, I often wear their t shirt on stage, Music Rising is a great project that was launched to raise funds for all the musicians who did lose their instruments in the post Katrina. The Edge from U2 is the man behind the whole thing.
Q3. What different aspects do you want to present in your music?
Claudia: We really want to present all aspects of life in its entirety: love, suffering, loss, joy, hope, darkness and light…
Fabrizio: exaclty…life at 360
Q4. What makes a band gel with the audience? –Their stage presence, variety of instruments, song lyrics, etc?
Claudia: I guess it's a mix of it all plus something unexplainable you could call "magic".
Fabrizio: it's all about the stories you have to tell, we re a  no look band so it's not about fashion and fireworks…magic is when your stories reach the audience and you feel glad cause they have chosen to stay with you during the night…and you have to pay them back  cause they are sharing something so powerful with you.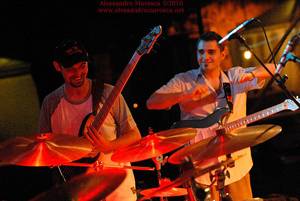 Q5. Do you like to experiment while creating music, removing the bindings of a particular form or genre?
Claudia: Of course we like it, the big challenge is removing all bindings and experimenting while preserving our own "trademark" and sound and we are working on it.
Fabrizio: Magic is also having six different people sharing their inner world creatin such beautiful and magical music together. There should be no bindings, just a flown of ideas and emotions…
Q6. Which one you like more—performing on stage or recording in a studio; Why?
Claudia: I like both. Performing on stage is adrenalin, it's complete communication and exchange with people but recording in a studio means building songs, working hard to give them the right sound. Both things are very exciting.
Fabrizio: If I think about Mardi Gras I see a stage rather than a studio, but yes workin on the songs in a studio is a great school…I have still to graduate.
Alessandro Fiori: I really prefer the live vibe! you can capture the faces, the eyes of the people in the audience…you can send and receive their energy…there's no fishnet in that situation ….the moment will never be back!
Q7. How do you feel music cross geographical boundaries and has a global appeal?
Claudia: I think music has the greatest power: It crosses cultures and borders, a song can move different people and go straight to everybody's heart all over the world. I tell nothing new when I say that music speaks the universal language.
Fabrizio: First of all, I have to thank you in a special way 'cause it's our very first time for us reaching India and Indian people, so I feel honoured…and we have to thank the web and the chance we have through the web for our music to reach all the world, there's no borders, no fences, no obstacles. Music is maybe the only power who can unite the entire world.
Q8. Share a moment that the band enjoyed while performing live?
Claudia: There are many and they all show we have a strong bond. We really love what we are doing and we have fun doing it: just look at our live pictures and you'll see we take music seriously but we do not take ourselves seriously 🙂
Alessandro Fiori: I really enjoyed when someone in the band (and I 'm not tellin who!) fell off stage!
Q9. Any message to the audience?
Claudia: We just want to say to all our followers we really thank them for their support and their love. We are here for them definitely.
Fabrizio : Much love for your support and have a great 2011, if you want to find us on Facebook,  Myspace, that's our website where you can find everything about us, video, pics and even more: