Rocking with energy–Bluebird and Skoko share their journey
If you ever tapped your feet listening to rock'n'roll, you are at the right place. We interviewed a band that brings different tastes of jazz, blues, rock'n'roll, and country music at one place.
Bluebird & Skoko are a buzzing combination of deep Chicago blues and dirty rock'n'roll energy guided by the spirit of Screaming Jay Hawkins, Billie Holiday, Muddy Waters, The Cramps, and all those artists inspired by the fire inside. Their music is the expression of passion for music and lust for life. They sing and play from the guts, guided by that mysterious creature called Mojo.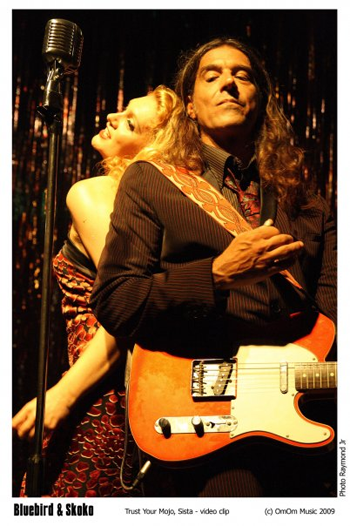 We had an email interview with Bluebird and Skoko.
Q1. Tell us something about how you both collaborated and what made you gel together?
We met in Bali, we were both livin there at that time. A common friend was having lunch with Skoko and she introduced each others.
We had a short but intense talk and at the end Skoko came up with the wish of singing the blues and when she heard I was a blue's man … we started to work on our first album together few days after! What really made us writing what we wrote was that magic thing called Mojo.
Q2. What made you pick blues and jazz as your genre?
Bluebird: I was born in a record store more than 50 years ago when the rock & roll was shakin the World and that was the music I grew up with along with blues & jazz. I used to play the albums (both 78's & L.P.) of artists such as Skip James, Robert Johnson, Mississippi John Hurt, Sonny Boy Williamson, Walter Horton and many other great people who was sticked to the blues. On the other hand, for the jazz side, the albums of Fatz Walzer, Louis Jordan, Art Tatum, Charlie Christian, Sun Ra, Roland Kirk and many others were spinnin of my record player.
Skoko: Back in the 80s, I had a punk band but when I met Bluebird was the time I really wanted to change for something different and that was the Blues.
Q4. What uniqueness you want to bring through your music?
Bluebird: I guess every time a musician reach the level when he can perform his own songs,
he puts all his energy and ideas in his music to create a unique piece of art. Put all yourself in the music, open your mind and what you will find is what you can give to others.
Q5. What makes a band gel with the audience?
Bluebird: The quality of the music, the feeling you put in your work and the honesty.
Their stage presence, variety of instruments, song lyrics, etc?
The presence on stage is a must! You HAVE to give the audience a REAL show not just play the songs they know from your albums. They come to SEE with their eyes, doping to share an emotion but if you just don't move and play your technique to show how good you are and play the songs just like you did in the album, nobody will ever have real fun.
Also the lyrics are part of the game, no matter the genre of music you are playing. But what really counts is your Mojo. They must feel it all around and get excited by it. You do it, you win.
Q6. How much you like to experiment while performing?
Bluebird: As I mentioned above, if you just play your songs like they are on your album, that is boring, useless and sometimes makes people sleep. You got to experiment everytime you are up there in front of your fans. They make you feel good so you got to make them happy and…wet!
Q7. Which one you like more—performing on stage or recording in a studio; Why?
In the studio you have more time to think, change, add, cut and develop all your crazy ideas; at the end, when all the songs are ready to shine, you have to go out on that stage in front of one or ten thousand people waiting for you, for those songs and you have no time to think so you close your eyes and you have to accept all the mistakes and the good vibes that comes from your soul.
Q8. How do you feel music cross geographical boundaries and has a global appeal?
Bluebird: Music is maybe the only form of art who can speak to the whole world but I think that nowaday musicians are often too selfish and do not consider the idea of mixing with another genre. Look what happen in classical music: how many directors you see in the wolrd that are ready to work on a rock or blues or jazz tune mixed with a symphonic orchestra? And vice-versa.
You just consider that and you will have a nice melting pot.
Q9. Tell us something about your collaboration with artists from other countries. Do you feel it enriches your own music?
Bluebird: Absolutely. We had a lot of collaborations with Indonesian musicians. Look who's playing in our album "Trust Your Mojo, Sista": we recorded it with artists from Indonesia, California, UK and Japan. Everybody brought his own experience and we had a lot of fun doin it!
Q10. Share a moment that the band enjoyed while performing live?
Bluebird: You know our music is a mix of blues, jazz, rock and country. I guess but everytime we have a show, we end it with a special song called "MAmi is a bad gilr" we wrote for a good friend of ours, a cool lady called Mami and the song has a strong and fast beat a-la-Ramones. We can see the faces of all the people in front of us turn from surprise to a different state of mind with a shock of adrenalin. We love that song and it seems the people too love it.
Q11. Any message to the audience?
Bluebird & Skoko: We'd love to perform in your country, folks! Not only in a big stadium but in small clubs too and feel your energy all round us. Hope to make it soon.
Love & Respect!!!