Interview with Chitrangana Agle Reshwal: The first female Pakhawaj player

From her voice itself, you will guess that she is a shy and composed lady, but when it comes to playing the instrument, Pakhawaj, believed to be for men only, she displays the power with equal intensity. As she recounts her experience with great Tabla exponent, Pt. Kishan Maharaj, who remarked that she shames male Pakhawaj players with her ability.
Chitrangana Agle Reshwal says that she was attracted by the sound of Pakhawaj and wanted to try playing it. Though her father denied teaching her, she picked the initial lessons from observation alone. Later on, she was sent to learn from none other than the legend Raja Chattarpati Singh who honed her skills. For her feat, Limca Book of Records has rightly included her name to the first ever female Pakhawaj artiste in the world.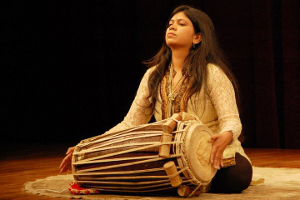 She wants that women should take more interest towards percussion instruments, as it is not difficult to play any instrument if you have the passion and zeal.
We present a telephonic interview with this unique and wonderful artist.