Music provides a field of meeting: Interview with Suellen Primost

Being an Indian, it is rare to find love for Cello. It's not a regular instrument played by many in India, but there are some orchestras and bands that adopt it. Recently, some artists have started playing Indian classical music on Cello, which sounds amazing. However, my love for the deep sound of Cello was developed when I listened to this beautiful lady's music. Yes, Suellen Primost!
Her music is rich with experience of a lifetime, and I mean what I am saying. Her compositions are deep, enriching, and reflect a mood that can take you to a contemplative reverie. I have personally found her music to be so touching that it helps me in connecting with my own self.
I thought it would do good for my audience to know about her and her music, and how we together can make a difference in the world.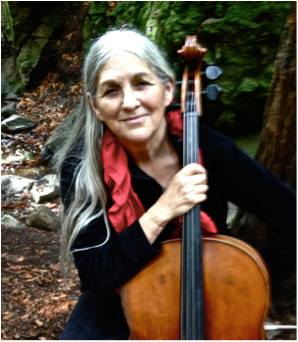 Little Bio of Suellen
Suellen Primost is a seasoned cellist, storyteller, arts educator, event planner, and sound healer. She founded Symba Center for Multicultural Education and the Arts in Santa Fe, NM which evolved into Symba Center after her move to Oakland, CA in 2002. For 10 years, she served as Music Director for Artship Ensemble, an international theatre company based in San Francisco. Over her 40+ year career, Suellen has
developed and facilitated numerous ethnic arts programs for major museums, colleges, schools, and community agencies.
Suellen has staged large community events and festivals( Jazz on the Rocks, Peacejam, and The Osun Festival) and has traveled extensively throughout the world. Currently, she is based in the Bay Area, USA, and performs there with diverse musical ensembles of all types. Her music can be heard at www.reverbnation.com/suellenprimost
We had an email interview with Suellen about her musical journey
Q1. Tell us how music found you?
I like the way you worded that question. Yes, music found me, stirring the very waters from which I emerged. Both my mother and father were musicians, so I was immersed in music all my life. We sang constantly, listened to jazz, classical, and show tunes, played instruments — cello, piano, and clarinet, performed in musical theatre, danced at weddings and family gatherings, harmonized and took the Great American Songbook with us on many long road trips.
My father, known as "Uncle Meyer," would pick up young children each morning to take them to my parents' nursery school in NJ, signaling his arrival with a station wagon horn that bleeped out, "Yankee Doodle." My mom would play piano at the nursery and we would sing our little hearts out.
Q2. What's the most essential thing a musician should do to become an expert in the art?
For me, being an expert in the art of music is akin to being an expert in the art of life. When I think of music, I think of a conversation. A good conversation involves listening, deeply, thoughtfully, picking up on nuances, cadences, moods, tone colors, pitch, body language, rhythms.
It is helpful to remember that music is born out of silence. Leaving silence, leaving space in conversations, allows for an easy ebb and flow of ideas; space adds poignancy to what words, notes or ideas are voiced; space engages listeners and invites them into the conversation; space provides oases of respite for receiving and processing what has been uttered or implied, musically or verbally.
By practicing deep listening, one develops a heightened sense of how these conversational aspects meaningfully relate. Awareness grows, tools for authentic, articulate expression and artistry are honed, and one's musical sensitivity and expertise deepen over time.
Q3. Do you feel satisfied with what you have achieved in your career as a musician?
I do. I feel like my music provides a field of meeting. Rumi says, "Out beyond ideas of wrongdoing and right-doing, there is a field. I'll meet you there." In that universal field, we bow to one another. There are no political, social, or ideological divisions. In that field, we lie down and allow our souls to be bathed in sound, to align with the One Sound, to the heartbeat, which brings us Home.
Q4. What are the options available to a young musician to sustain his living?
The options are many. Find your tribe. Find those who resonate with you. Support one another, inspire one another. Take creative risks. Trust in all possibilities. Be open to interdisciplinary collaborations of every type. Draw from all the arts. Give voice through your music to things that truly matter to you. Use it to support causes. Use it to carry the dying into the next world. Use it to welcome in the new souls. Use it to heal. Take your music into unusual venues. Share it with children. Travel with it. Open your guitar case. You will never lack for a meal.
Q5. How do you feel music can bring people of the world together?
Music is an international language that people all over the world can understand. Music resonates at the deepest levels and can attune all hearts and minds that are open to her gifts. Music provides grace and comfort. It can evoke joy. Music gives voice to life, to the pain, the passion, the beauty, the dreams, the mystery, the longings, and fulfillments. Music is, for me, the ultimate expression of our shared humanity as a global family. Music is the essence of Spirit.
Q6. Apart from music, what else do you like to do?
My irrepressible love of beauty, desire to share and be of service also takes expression in calligraphy, photography, storytelling, teaching, gardening, hosting guests, cooking, facilitating art workshops and planning community events that allow people to celebrate the many unique ways people of all backgrounds and cultures express their creativity.
Q7. Share a message with our audience.
Life is about reciprocity, giving back. It keeps the energy growing and flowing, and creates a cosmic pool from which all can drink and take what is needed to sustain and enhance their lives and the lives of others.
This is my message: Find what you truly love, fearlessly follow your passion and do it with all your heart.
"Let the beauty we love be what we do…" Rumi