CD Review of 11:11 City of Love by Shakila

Album: 11:11 City of Love
Artist: Shakila
Total Time: 39:23
Well, I never imagined I will hear somebody from Iran singing such beautiful English pieces–being a poet, first thing that comes to my mind when I hear about Iran is Rumi. That his poetry is read throughout the world even now is a true reflection of his ingenuity and other-worldly genius. But to hear an Iranian voice rendering multi-lingual songs is a different platter of tasteful delicacies altogether.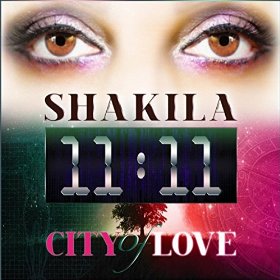 The roots of India with Iran run deep, often clouded in uncovered history, but there is something very unique that makes the arts of both the countries gel together.
In the first song itself 'If you distance your self', Shakila sets the tone of the album. In her delicate voice that has a tender touch of her soul, she prods your heart–the words of the songs are also amazing.
As we move along the album to 'City of Love', you will wonder if she is from Iran or originally from USA singing like Celine Dion or any other singing sensation of the West.
The music arrangement is effective in giving a certain mood to the album–oftentimes, such heavily pregnant worded songs tend to become monotonous. But you will hear the guitars and drums in these songs giving you same delight like you would hear in a Bryan Adams song. (!)
What I loved most in this album, apart from from the voice, is the words every song carries. They are infused with so much of poetic expression of love that you find them catchy and sticking with you for long. You can read the titles of the songs like you read titles of poems in a book.
'Teach Hate How to Love Again'–just check the title of this song! It's as beautiful as it sounds.
'The Secret', true to its name, starts with something mystically mysterious. You are reminded of forgotten civilizations, or some places if you could relate Lord of the Rings. I loved this piece. 'Power of Now', like the previous song is totally instrumental, again very well rendered.
What would be more delightful to find a Hindi song! She sang it amazingly well. This gives an insight into her repertoire, and the desire to bring various cultures together with music as the medium.
The last song 'Baraftou' is a literal treat to the ears. I loved it most. It takes you to some ancient Persian times of imperial dynasties.
What more you expect from a single artist–English, Perian, Hindi, and instrumental. It's a complete album of World Music, in the true sense of the term.
I commend Shakila and the whole team behind this album to bring out such a message-filled work in the world, which is torn by hate, jealousy, and mindless chaos.
We need more and more of this!
| | |
| --- | --- |
| Track Name | Duration |
| If You Distance Your Self | 03:49 |
| City of Love | 03:12 |
| When I close my eyes | 03:31 |
| Pledge For Peace | 03:13 |
| My Heart | 03:29 |
| Teach Hate How To Love Again | 02:45 |
| Pledge for peace (Piano Mix) | 02:46 |
| The Secret | 05:23 |
| Power of NOW! | 02:47 |
| Na Tum Hamein Jaano | 03:45 |
| Baraftou | 04:43 |