Review of Journey of Tears by Monica Williams

Very recently, I was watching a movie on my computer while the subtitles attracted my focus–there was no dialogue and I felt intrigued what they want to tell. The phrase read: 'Suspense Music.' I knew that music has the power to create a situation or arouse various kinds of moods in the listener's mind, but that pinpointing by the subtitles made me think how easily discernible it is–the effect of music. Without appropriate music, a movie would appear totally bland, no?
While listening to new music, I am always looking for such effects and being a lover of flutes, I picked Monica Williams debut album with great expectations. I would be remiss if I failed to mention that it has a great variety and texture of the music. She definitely chose a very difficult theme and something that only a few would like to pick for their debut album, and it definitely shows the confidence she has in herself, the grounding that she has in her education, and also the daring quality of a seasoned artist who is not afraid of exploring roads less traveled.
Judging from the name of the album and the artwork, one would guess that the album is going to be a deep on, touching the esoteric subjects of philosophic understanding of life and the reason of one's existence. Well, you will find that philosophic or rather poetic side shown the names of the songs itself. Every name or theme of the song reads like a title of a poem. (!)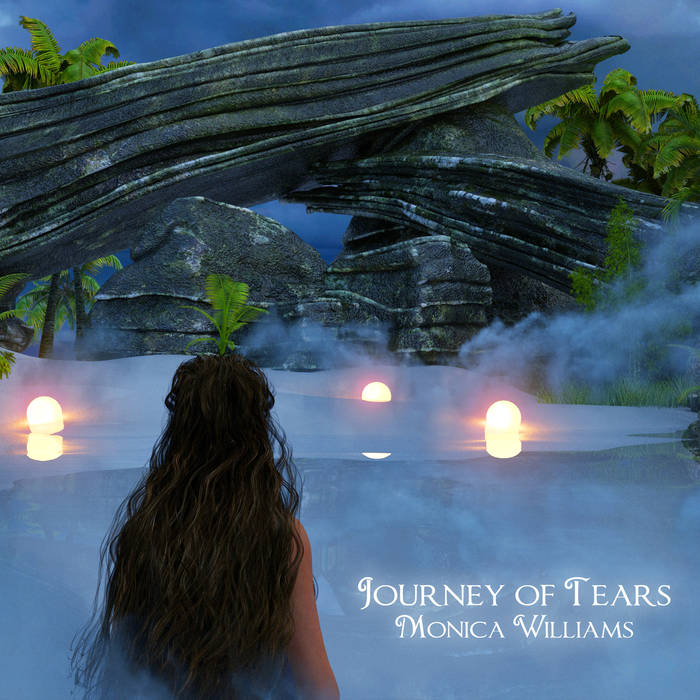 Album Name: Journey of Tears
Artist Name: Monica Williams
Total Time: 50:07
'Raining Tears' is a great opening for an album given that it combines natural elements like thunder and sound of rain with the vibrating sound of the flute.
'Conversations Within' is the track that shows the true colors of a flute–a deep and far-reaching voice.
'New Horizons' has that Native American Touch in its sounds and is an excellent mixture of different octaves played on different flutes.
'Unconditional Love' happens to be the smallest song on the album, but I found it fulfilling its purpose–short and sweet!
One of the great points of this album is the prominence of rhythm in various songs, which is often missing in the debut solo albums of various artists but Monica has done well as a composer. 'On the Edge' gives you a glimpse of a journey that has an element of excitement with placid layers of flute music. A great piece, indeed!
'Finding Peace' is soothing just like 'Unconditional Love' because it represents the basic values of our existence.
My favorite track of the album is 'Constant Change.' It does so much justice to the poetically paradoxical name that is given to it. The flute, the drums, the guitar–everything sounds so amazing in this track.
Being an Indian and knowing that Monica has a bamboo flute in her collection, I was waiting for its sound and my mind was almost 'Wandering' when I heard the song. Ah, it has that native sound and she played it so beautifully. It felt like someone sitting on the Ghats of Varanasi is playing it and calling to the Mother Ganges. A great rendition!
The last track 'The Great Beyond'–the longest on the album–has an angelic touch to it and constitutes parallel vocals to the sound of the flute. True to its name, it tries to depict something that is beyond this world.
It is needless to say that a listener will find a spiritual calling while listening to this album, which means the album will benefit you greatly if you are already doing some spiritual practice like meditation or chanting etc.
More often than not, when you pick up a solo album of a flutist, you expect a collection of different melodies and tunes played on a particular flute, which the artist feels most comfortable with. However, what is great in this album is that Monica has shown a glimpse of almost every possibility that flutes can have when it comes to creating different textures of music, and the listener is left wanting more, which is obviously a great win for a debut album. Well done, Monica!
| | |
| --- | --- |
| Track Name | Duration |
| Raining Tears | 05:05 |
| Conversations Within | 03:55 |
| New Horizons | 03:45 |
| Unconditional Love | 02:36 |
| On the Edge | 03:28 |
| Finding Peace | 04:11 |
| Constant Change | 04:44 |
| Wandering | 06:19 |
| Love From A Distance | 04:00 |
| The Great Beyond | 08:07 |