'Whispers From Earth' – Album Review

Whispers from Earth: Decoding Nature's Message for Inner Tranquility
In her award-winning instrumental album "Whispers From Earth", Ann Licater has compiled twelve flute passages for "Meditation and Inspiration". The flutist says these solo-inspired compositions were inspirited during her stroll at the Sequoia National Forest and while performing in the forests of Lake Tahoe.
Nature is impregnated with wisdom, silence, bliss, and profundity. Connecting with nature is the best way to experience and imbibe them. The quietude that is characteristic of nature can in turn inspire peace and tranquility in the mind. Licater distills the inspiration she derives from nature into the melodies emanating from her flute and duly passes it on to her audience. Therefore, 'Whispers From Earth' becomes infectious in transferring the gift of nature to you and me.
Licater's own record label 'Cul de Sac Mystic Productions' brings this production as the sixth album. Her idea is to find this album as "a 45-minute inner journey" for her audience, "perfect for a walking meditation, a lunchtime listening escape, or anytime one wants to center one's self."
She possesses a distinct mastery over an array of world flutes like Native American, Native American Style, folk, and silver alto flutes. Also, her standing as an executive producer comes to her advantage in shaping her art and ideas into a prizewinning album for meditation. "Whispers from Earth" effortlessly makes its way to claiming a reputable place among the Contemporary Instrumental and New Age creations.
The album playing for 44:57 minutes has the power to keep your mind and heart in captivity when they are nourished and tuned back to their fullest capacity. Find some quiet time with the album and give yourself completely to its charming sounds and notes and you will discover how much of nature's energy Ann has been able to breathe into her flute melodies.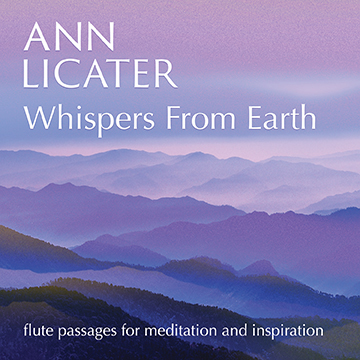 My short notes on these tracks
1. Whispers from Earth (4:22)
The notes of the first and the title track are unearthly. Close your eyes as the track plays and you are instantly transported to a distant dreamland of peace and joy. The opening track creates the perfect setting for contemplation.
2. Echoes from a Glass Pond (3:26)
Through 'glass pond', the composer might be suggesting the perfect transparency where the depth of the pond is perceived in perfect clarity. Calmness inspired in the mind by music can enable us to experience the bliss of stillness. Evidently, the melodies of this track are serene and feel like cradling the mind.
3. Peaceful Prayer (3:22)
Prayer establishes communion with God and the moments of prayer also help in understanding the power of one's own mind. Praying when you are peaceful, you are overwhelmed with a sense of gratitude for all the blessings you received. The third track is an invitation to experience the divine bond between man and God.
4. Luminous Morning (4:25)
Morning feels so fresh since the mind has been fully healed of all the bruises and fatigue it suffered over the previous day. 'Luminous Morning' also brings a promise of light in our path. Therefore, the journey gets more confident. The charming notes of the fourth track beautifully simulate morning sounds in an impeccable style.
5. Red Cedar Calling (2:43)
Nature sports a huge variety. Each of nature's sceneries fills us with different feelings and sentiments. 'Red Cedar Calling' is a unique opus in the album of some distinctive quality in stopping the vagaries of the mind and putting it into stillness and quietude.
6. Star Stream Dreamer (6:18)
Shining above our heads during silent nights, stars symbolize hope and guidance in life. 'Star Stream Dreamer' is the longest opus in the album. The long winding flute notes of this composition facilitate a kind of cosmic existence to be able to feel one of our dream stars.
7. Mirror Lake Reflection (3:05)
A reflective surface is where we get to see our own image. The melodious flute notes in 'Mirror Lake Reflection' promote a kind of self-introspection to discover the areas of the mind and heart to improve and achieve unity with the inner soul.
8. Initiation (Awakening) (3:00)
Music, especially the flute melodies has the power to wake up the still mind lying without the power to emancipate itself. Initiation, whether it is done through a mantra or music, the result can be redeeming the mind and heart from their captivity to perceive the grandness of the inner consciousness.
9. Silver Soliloquy (3:46)
When wisdom and hope dawn in our hearts, we are prepared for a more meaningful existence. We gain strength and tell ourselves the time has come finally to redeem ourselves from bondage and enjoy an escape into our dreamland. The ninth opus has the elements of faith and hope leading our paths.
10. Forest Moon Rising (3:02)
Moon's cool light in the forest can be a scene of matchless beauty. 'Forest Moon Rising' is composed of mesmerizing notes that silently whisper the message of hope and peace into our ears. We are prepared for betterment in every sense of its experience.
11. Redwood Memories (3:19)
The memories of the woods are always awe-inspiring. Every time we get back to the nostalgic memories of our communion with nature, we are moved to a blissful state. 'Redwood Memories' is an enchanting creation in flute containing an element of nostalgic longing too.
12. Following the Call (Horizons) (4:08)
Finally, it is time to depart with our journey when we get the call. 'Following the Call' is the final track featuring flute melodies of exceptional charm. The pleasant notes give a fitting conclusion to the auditory treat. Before disappearing in the thin air, the soothing melodies of this track reinforce the feeling of peace and tranquility in our being.
Closing Remarks
Ann Licater's solo-inspired flute melodies are a masterly creation in decoding nature's message for inner tranquility. The three-quarters of an hour you spend with the album deserves to be labeled as a spiritual retreat into your inner world. Listening to it in a chosen setting gifted by nature, you are sure to find this album a heavenly respite.
Listen on Spotify: