Review of Somewhere New by Sherry Finzer and Mark Holland

I have known Sherry for quite some time now, and have worked with her on various projects of reviewing albums of different artists and also interviewing them. Because she runs the record label that releases many albums and she also promotes a lot of artists, it often clouds her own prowess and beauty when it comes to music–she is one of finest musicians I have had the pleasure of hearing. And in my own humble way, I have heard quite many!
It may sound exaggerating because I know her but I am writing what I feel–her sound is just amazing. I am a flute lover and India happens to be the home of beautiful native flutes, so, I am quite exposed to the sound of flutes; I feel there is no denying that Sherry hits the right chord or note (!) whenever she picks up a flute.
When she collaborates with other artists like she did with Mark Holland for her album 'Somewhere New,' she brings a whole new dimension of music for the listener. Experimentation is her forte and she takes it to altogether another level when she is given free reins. She has done it so well in this album with various artists adding a rich flavor for the listeners.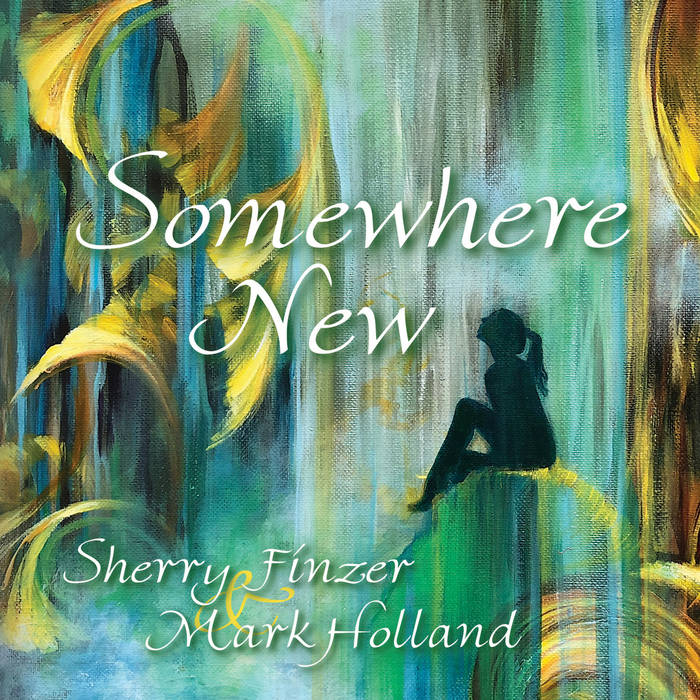 Album Name: Somewhere New
Artist (s) Name: Sherry Finzer, Mark Holland
Total Time: 61:21
The album will definitely fall into the category of 'relaxation music' or music that helps you destress yourself or also facilitates in meditation etc.
Barring the last track, which, owing to the introduction of electric guitar and synths, sounds funky and peppy, almost all the other tracks are thematic for a lovely journey for the listeners.
The opening track has a light rhythm of Udu and feels like giving a taste of what is coming ahead.
The introduction of Djembe starts the next track very beautifully. The whole album has very soft rhythm beats, which are ideal for relaxation and meditation. You will hear harmonies of flutes and the native American flute mimicking those harmonies.
The next piece, 'When Stillness Comes,' is a treat for flute lovers–like a rhythm-less rendition of an Indian Raga Shivaranjani, the track takes you to another world. Both Sherry and Mark have shown their magic here.
As the name suggests, 'In Search of Somewhere New' is full of zest and expectation and has that slight hint of tempo. Acoustic guitar opening and Djembe are quite prominent in this track.
The next track has no percussion but only flutes and harp–quite relaxing and with a laid-back approach, gets the listener back to the state of relaxation.
The most stand-out track of the album is 'Five Shades' in which Will Clipman shows his skills with various percussion instruments including water drums. Amazing rhythm!
Various tracks of the album introduce new instruments before we come to the magical baritone sounds of the Contrabass Flute. You will feel transported to the age of Hobbit listening to 'Far Over Misty Mountains Cold.' I just loved the sound of the flutes in 'Silence of a Cavern.' Definitely, my favorite of the album. Luckily, it is the longest track and you get to listen to the absorbing sound for a considerable time. The sound stays there and lets you drown yourself in its sonic depths. You will have to hear to experience the magic it weaves. The track is ideal for meditation.
Mark is quite evocative with his world and Native-American flutes and you will notice it more prominently in the last track.
Once again, the innovativeness is admirable throughout the album and that is what makes it stand out as a worthy New-Age collection.
Overall, it is one hell of an album for flute lovers and I can't wait to hear more such innovative pieces from Sherry and her co-artists. Well done!
| | |
| --- | --- |
| Track Name | Duration |
| Never Forgotten | 05:04 |
| As the Night Blooms | 06:22 |
| When Stillness Comes | 04:11 |
| In Search of Somewhere New | 04:13 |
| Evening Star | 04:26 |
| Leaving All Shadows Behind | 04:46 |
| Five Shades | 05:11 |
| The Beauty Lies Within | 04:48 |
| Golden Daybreak | 04:04 |
| Silence of a Cavern | 07:00 |
| Deeper Distance | 03:15 |
| Dolphin Dreams | 03:55 |