Album Review: Great Blue by Raphael Groten

Quietness Is Finally Here Within You – Visualize The Widening Cosmos Within You
Hundreds of albums are released every year, but very few creations qualify as a treasure to preserve for life long. These are the compositions of some virtuosos that have an exceptional lure making us pick them up and listen to them time and again. Their charm is never lost even after hundreds of hearings and they send across a different sensation and meaning every time we get back to them. If given an option, I would like to add Raphael Groten's album 'Great Blue' to such of my collection. And here is my review of this incredibly wonderful album.
"Flute melodies for meditation music" – the idea seems fantastic. We all have listened to the flute and know the instrument's mesmerizing power. The flute has a timeless appeal and is received well both across classical and modern music. Due to its inherent power to transport, the flute is perhaps one of the best choices to play for contemplation. Nevertheless, Groten's approach in 'Great Blue' is a bold move as he has chosen to make an entire album out of his solo flute without any accompaniments. And, the actual outcome is something stupendous that we have never come across any time before.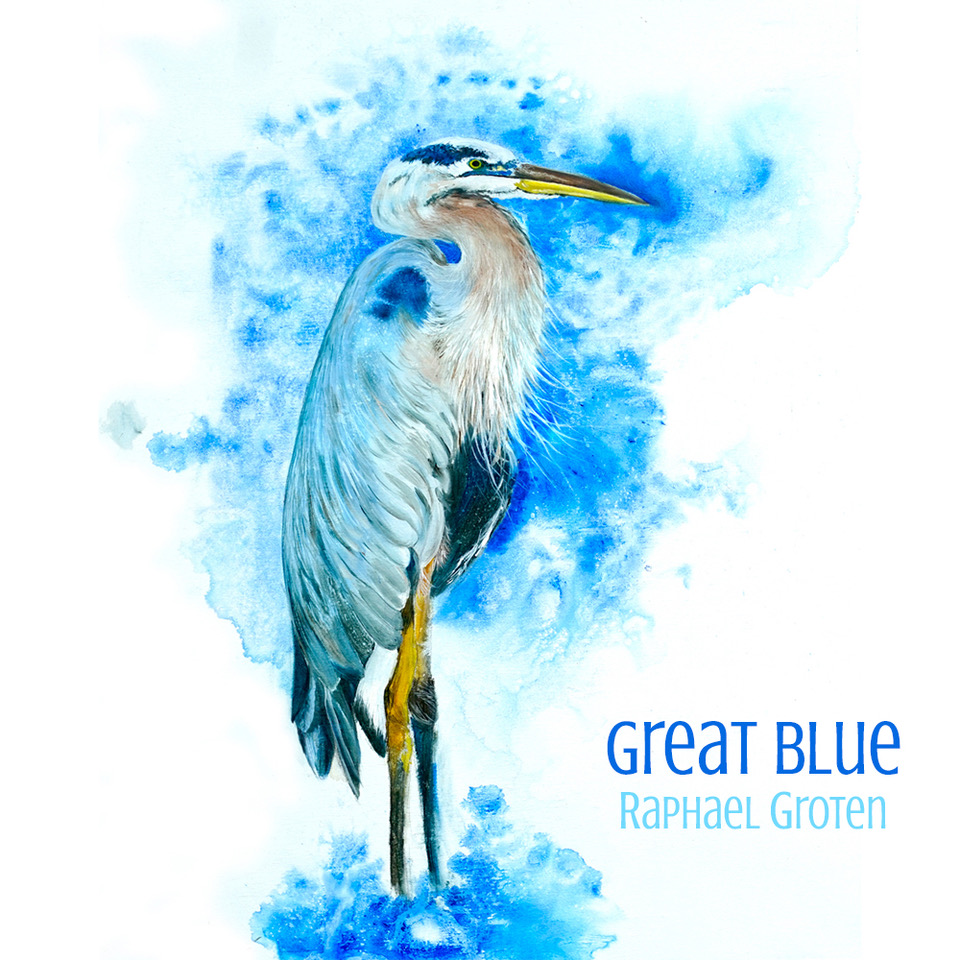 Groten has an indisputable mastery over the flute. As a flutist, he has unparalleled expertise which he has ably distilled to produce this solo flute album for meditation and healing. The multi-instrumentalist has played on eleven different flutes for the eleven tracks of the album. Songs were not pre-conceived and the themes and melodies were woven spontaneously on the move. The tracks were composed in the same order that we find them arranged in the album. So, this is a novel kind of organic experiment in producing an album. The artist definitely deserves a big applause for such a heroic accomplishment that very few artists would ever dare to attempt. Now, let us move over to the tracks to study them in detail.
#1. Raven Heart (8:52)
The longest opus in the album, 'Raven Heart' takes you to deep woods and creates an eerie ambiance where your mind is put to perfect rest. Be ready to encounter surprising flora and fauna on the way.
#2. Caduceus (6:50)
Representing the Roman god of Mercury, 'Caduceus' is also a term describing thieves, merchants, and traders ruled by this god. The second number best describes a nocturnal theme and transports you to dreaded unknown worlds. However, the ultimate outcome lets you focus on something easily.
#3. Roots (2:49)
'Roots' has an altogether different flavor from the first two tracks. The longer musical notes promote concentration and suggest the element of depth and going to the source to derive the energy for an effortless existence.
#4. Sanctuary (6:42)
A sanctuary beckons the bird or animal species to enjoy a safe respite in its portals. This song welcomes you with open hands and ventures to relieve your mind of its aberrations. You are carried forward with the musical notes ebbing and flowing in surprising ways. Amidst the lingering uncertainty, there is an element of emancipation.
#5. Great Blue (6:51)
The title song seems to be dedicated to the widening cosmos and there is evidently the suggestion of expansion and vastness in the musical notes. You feel the boundaries are shattered to release you into the world you have always craved.
#6. Far Beyond (4:23)
Voyages symbolically suggest the element of escaping into your dreams and passions. 'Far Beyond' is the sixth track containing the element of surprise that exists in the unknown worlds. When you get ready to appreciate the uncertainty you encounter on the way, you begin to enjoy independence as a gift.
#7. White Bear (2:40)
Titled 'White Bear', the seventh track is a unique composition journeying you to icy worlds of silence and loneliness. You get to watch some strange fauna inhabiting the region. The overall feeling is a kind of escape into chilling worlds.
#8. Eagle's Tale (3:59)
Eagles are known to reach the highest altitudes among birds. Right from the beginning, the eighth track lifts you to the blue skies to enjoy an afloat that is far redeemed from the earthly plane. You get to survey the world like the sharp-eyed bird from far above to see how insignificant the things that were once dear to you are.
#9. Invocation (1:52)
The ninth track 'Invocation' sounds like spells of mantras and seems to address the higher reality. The shortest of all the tracks, this is a unique composition following a set pattern. You get to experience a session that feels like a prayer that engages you with the divinity.
#10. Hermit Thrush (5:52)
A hermit's loneliness feels serene and elevating. Accepting the solitude voluntarily, a hermit gets engaged with his inner consciousness and feels a sense of redeeming peace. The tenth track is the penultimate escape you make with the flute notes to experience a great time with yourself.
#11. Quiescence (6:34)
Characterized by inactivity and dormancy, quiescence can describe a state of contemplation when you are one with your inner reality. The last track ventures into releasing you into a cosmic existence where you feel completely relieved and redeemed from a binding existence. Finally, in this track, you feel a sense of completeness dawning in your heart.
Concluding Remarks
In his solo flute album 'Great Blue', Raphael Groten seems to have done full justice to his daring mission. His intrepid confidence and mastery of delivery are evident in each of the tracks in equal measures. It is hard for anyone to tell that this masterly creation was produced spontaneously in one go. As meditation music, 'Great Blue' singles itself out from the crowd of albums on this theme in terms of its unique merits. Your first listening to the album is sure to enslave you and you will certainly add it to your precious collection. Moving forward, you and I are sure to recommend it to our loved ones as well, letting them experience the same kind of comforting joy we felt in Groten's music.