Review of Woodlands by Rudy Adrian
The first word that came to my mind when I listened to Woodlands was 'perfect.' I know this word could have different connotations and angles with which a reader or a listener would want to connect with the album, but you analyze this word from any angle when it comes to the context of this album, and you will find that it is fulfilling the requirements. Whether you are talking about the quality of music in this genre, the rich mixture of sounds, or the depth of the natural element that you find in each track, you will find that everything is perfect in this album.
'Woodlands' is not a work of a musician alone–I mean it can't be conceived simply as a musician. To generate or imagine such kind of sonic journey, you need to live the experience; to feel deeply connected with raw nature and its simple beauty, and find the art in it. You can't imagine watching a movie about a forest and creating such kind of music. It is Rudy's understanding of botany and forests that have culminated in such an artistic and powerful expression of soundscapes. The mastery and virtuosity are mind-blowing when it comes to bringing a collection of sounds that would make you feel like sitting deep in a jungle and enjoying elemental beauty.
I am tempted to make a comparison or more like an alignment between some albums from the Indian music scene. If you are aware of the North Indian classical music stalwarts like Pt. Shiv Kumar Sharma, Pt. Hariprasad Chaurasia, Ustad Zakir Hussain, etc., then you might have heard the name of a music collection of five albums called 'Elements.' Though the genres are different, I have no hesitation in saying that 'Woodlands' qualifies to be clubbed with these albums in quality. Totally blown away by its beauty and impact, I can't help but put this album in the highest esteem and worthy to shared and talked about.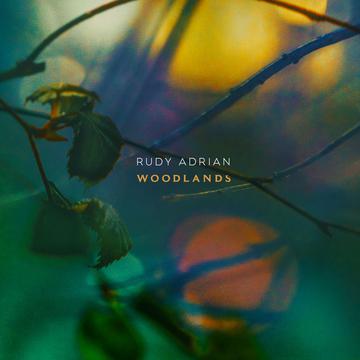 Album Name: Woodlands
Artist Name: Rudy Adrian
Total Time: 67:00
There are thirteen tracks on the album and the running time is more than an hour. Ideal for relaxation, meditation, and stress-busting, the album would make a wonderful gift for somebody who is looking to connect with oneself.
The songs provide rhythm-less soundscapes with a captivating feel and expanse that captures the imagination of the listener and provides a very recuperating experience.
Inundated by the continuous barrage of social media ruckus, pollution of various kinds, the chatter of mind that does not dim down, the feeling of dissatisfaction and lack, if you ever felt to just let go of and wanted to enjoy the lightness and burdenless existence of your being, this music has the power to deliver that effect.
Though this is the first time I am listening to Rudy's music, I recognized so many sounds as if they were native to me. In fact, that's the beauty of the album–It brings you back to your own self.
Avoiding the chance of being called an exaggeration, I would simply say that this is what you wish for when you search for a good new album.
Congratulations and kudos to Rudy Adrian!
| | |
| --- | --- |
| Track Name | Duration |
| Postcard from Karnak (remix) | 03:58 |
| Deep Within Forbidden Mountains (remix) | 04:52 |
| Fields in Evening Light (remix) | 05:47 |
| Treetops | 05:13 |
| Woodlands | 04:55 |
| Moonrise (remix) | 04:02 |
| Autumn in a Forest Glade | 06:04 |
| Dancing Shadows | 02:26 |
| Under a Sheltering Tree (remix) | 07:20 |
| Hidden Pond | 04:11 |
| Lantern Walk | 03:39 |
| Stars Between Boughs | 09:09 |
| Three Views of a Japanese Garden, Part 1 | 05:24 |