Review of Liquid Mind XIII: Mindfulness

Very recently, I listened to the talks of a spiritual master, who was simplifying the eight-step process of meditation and reaching the stage of Samadhi, in a parlance that sounds very easy to grasp and relate to. Often, the simple truths are hidden in artistic verbiage, and we tend to overlook them in search of apparent higher truths.
In these steps, the master talked about a particular step that comes before the 'concentration' step, which of course comes before the actual 'meditation' step. This step is called 'withdrawal.' After carefully observing the vagaries of your mind and not following them, you start asking your mind to listen to you–withdrawing it from unnecessary activity. This is where I feel such an album could be of great help. Chuck Wild (the composer uses the name Liquid Mind for his albums) is known for his mindfulness music, and this album fulfills the promise of assisting you in aligning your mind to one single thought–a thought that you want to concentrate upon.
Album Name: Liquit Mind XIII: Mindfulness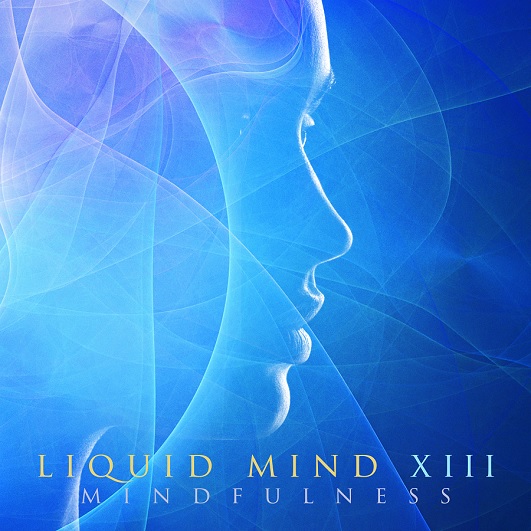 Artist Name: Liquit Mind
Total Time: 64:27
There are a total of six tracks in the album almost all of them are around ten minutes long–the title track being the smallest one.
How appropriate are the titles of the songs and I just love the first one: 'In the Arms of Love.' Literally, the essence of everything is in this title–sitting quietly, reflecting on the events of this world (particularly the current scenario), and finding the meaning of one's life ends in the arms of love. The music of this track is the perfect carrier of that journey if you are readying yourself for such a voyage.
All the tracks are composed on the synthesizer and there are no other instruments used–so, you can expect a smooth sonic ride for more than an hour.
Not only for meditation, but you can also use this music for better concentrating and being creative during the lockdown period, for mindfulness often helps in cutting out all the outer sounds that are otherwise troubling your mind.
Chuck Wild, with all his experience and mastery, has once again delivered a worthy compilation of music for the listeners.
| | |
| --- | --- |
| Track Name | Duration |
| IN THE ARMS OF LOVE | 10:05 |
| A CALM HEART | 11:33 |
| THE WISDOM OF KINDNESS | 10:34 |
| A GENTLE MIND | 12:42 |
| LIFE IN THE SLOW LANE | 09:51 |
| MINDFULNESS | 09:28 |