Interview with Deepika–a Young Singer and an Engineer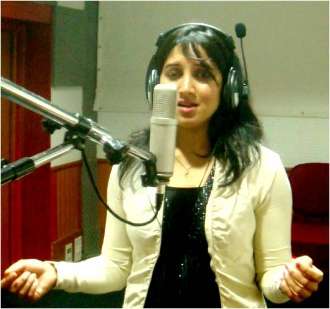 Deepika T. hails from a family of musicians and music lovers. She started learning music from the tender age of 8. She started her training initially in Carnatic music and light music from her mother Radha. Later, she switched over to Hindustani Style of singing and started training under the able guidance of Archana Belgundi. Presently pursuing Carnatic style of classical music (Vidwat) from Venkata Raghavan, a disciple of Balmurlikrishna. She also sings Kannada Bhavageet, Bhaktigeet, Marathi Bhavgeet, Mahabharat Kavya (completed major Gamaka exams) English pop-songs, Hindi Film songs.
As a unique combination, Deepika completed her engineering in Electronics and communication and works as a Software Engineer with IBM, India. She has won national-level prizes in Carnatic Classical and light music organized by Bharat Vikas parishat in Indore and BSNL in Ahemdabad. On the flip side, she won a silver Medal for Riffle Shooting Competition held at New Dehli, NCC in Basic Leadership Camp.
It goes without saying that Deepika is a multi-talented young artist who has steered the spirit of creativity and technique into a beautiful blend.
We had an email interview with Deepika about her life as an engineer and as a singer: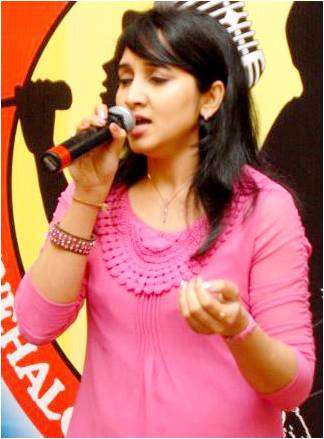 Q1. When you actually started to think that you can go for professional music career?
I started learning music at the age of 8, and more over I used to participate at every singing completion whether it's state level or national level. A kind of thought that I can be a professional artist was there from childhood.
Q 2. Was engineering a choice or a hobby? I mean how did you combine two different approaches where you needed to be more creative and at the same time analytical?
I always wanted to be an Engineer. I love Maths and Science and was very hard working as a student.
As a child, I participated at many different kinds of competitions including drawing, singing, dance, theatre. I was very hyper active kid and I was easily able to manage co-curricular activities along with my academics.
Q 3. How you retained your mental control dealing with various subjects–right from the intricacies of varies forms of classical music to the circuit diagrams and designs of PCBs?
I don't think music can ever be considered as an obstacle to the kind of Education. Take an example of Shankar Mahadevan: he is also an Engineer and a Musician. It all depends on how hard you work to balance both of your interests.
Q 4. When it came to engineering, did you ever feel that you were stuck and perhaps should have pursued a full-fledged music career?
Many of my friends advised me to participate in reality shows when I was studying engineering. But I never got distracted, because I always believed that education is must. Music can always be done later but once you lose the time it will never come back again. I also knew if I ever participated I don't think I would ever come back and complete my education because completing a professional course like engineering needs lot of dedication and preparation.
Q5. What or who was your greatest support, strength and recline while undergoing music tutelage and keeping abreast with the engineering college's demands?
My mother: she has really sacrificed a lot to bring me up like this.
Q6. Being an artist, how do you feel that young and budding artists should be groomed or motivated? Taking from your own personal experience, did someone or something inspire you to put in your best efforts in whatever occupation you take?
Well, my message to all youngsters would always be to work hard and make sincere efforts, and be focused in life; not to get carried away by fame and money at an early stage of life. Teenagers, you have whole life to achieve; take example of great legends, read their stories the way they have come up in life with lot of struggle involved. Do not easily get depressed if you ever fail. Keep Trying.
Q7. Do you feel that for new singers and musicians there is a lack of infrastructure? I mean studios, concert halls, and organizers? Talking from quality's point of view?
Well, to some extent there is lack of people who really appreciate true talent and provide them platform. But there is no scarcity of infrastructure.
Q8. You have touched almost every genre of music. You have explored various aspects of life right from understanding technical circuits. You have participated in shooting events winning awards in rifle shooting. Where do you feel you find the goal of your life?
Well, I love doing different things. I don't think I can only be a musician all my life.
Q9. Talking about building a career in music industry, what is the basic requirement? How one should train oneself to make sure he/she has gained a good foundation?
It's very important to have basic knowledge of classical music, good voice culture, a proper mentor who can train you well.
Q10. Any personal advice to young artists from your own experience!
I would always advice to keep learning as much as classical music; practice daily without fail, which I always do in order to keep my voice in a proper condition. And also keep working hard in order to achieve your goals.