Interview with guitarist Shambhu N. Vineberg

Shambhu seeks to connect listeners with the Sacred Love within. An accomplished guitarist and composer he performs music of the heart, an exquisite fusion of new age and jazz styles that engender feelings of tranquility, harmony and fulfillment.
Shambhu's technical mastery of the guitar enables delicate expressions of nuance and subtlety while engaging audiences in deep spirit. His music has been called 'magical,' a 'journey', and 'opening a space within'.
Shambhu has performed with Carlos Santana, Narada Michael Walden,Premik Tubbs, and played on Whitney Houston's multi-platinum album, "Whitney." He studied meditation for three decades with the renowned mystic Sri Chinmoy.
We had an email interview with Shambhu
Q1. Tell us something how you picked up music.
Music comes through me during meditative and contemplative times. When I am composing I am in a high consciousness, my mind is calm like the surface of a river on a quiet morning, and music flows. I record all of these sessions and listen back to them only to find the songs. That's how I discovered all the songs on my upcoming CD, "Sacred Love." If I fail to record these sessions, I cannot remember the songs, for they flow at times when my mind is quiet.
My parents Pearl and Mel Vineberg knew I was musically inclined and made sure I took music lessons from an early age, they also purchased the best musical instruments for me to play and they made sure I practiced music an hour each day.
If you love playing music, practice is key. The more time you put into anything, the better at it you will become. Music is like a muscle. Use it and become strong. Stop using it and it will become useless.
Q2. What was it that made you pick guitar as your instrument?
At age 5, my mom knew I had musical gifts. I used to beat my hands to music I heard on the radio at an early age. I played piano at age 5. I also preferred playing by ear rather than reading music and was borderline ADD in that I heard music, had perfect pitch, and my mind always wandered back to the music I was hearing inside. My piano teacher failed to connect with me, so I quiet. My mom insisted I take up another instrument and I picked guitar. I remember wanting to play left handed guitar, but my teacher insisted I play right handed (standard) guitar.
Q3. You are also an entrepreneur? How does music help to concentrate in day-to-day life?
Music is close to meditation. It is something I feel. It is an intuitive expression. My success in the public relations business with my company, Vineberg Communications (www.vinebergcommunications.com) is also based on intuition for that is the way I get ideas for clients. However, the execution of public relations is also a mental expression and PR practitioners are serving external brands and causes. Performing and promoting my music is closer to my heart and it's an expression of a higher Love.
Q4. Do you feel that collaborating with musicians over the world has opened the vistas of your own music?
Definitely. I have met many great musicians. I jammed with drummer and triple Grammy-winning record producer Narada Michael Walden when he was 20 and I was 19 and we've stayed friends still today. I also met saxist Premik Tubbs at the same time, and we've performed together many times as a duo called Equinox. At age 21 I met Carlos Santana and performed with him at a large venue. I was doing studio work with the great guitarist Jeff Miranov and others.
Collaborations are important. If you can find inspired people to play with who can elevate your music, you will benefit. It is the same with life. Surround yourself with the most brilliant people in the universe and you will embody that brilliance as well.
I met many amazing people in my life through my work with Guru Sri Chinmoy and benefited by it: Maestro Leonard Bernstein, President Mikhail Gorbachev, Mother Teresa, Bruce Springsteen, Clarence Clemons, and many others.
Q5. You have been into meditation also. How do you feel it helps retain your calm while among the chaos?
I studied meditation with Guru Sri Chinmoy. Meditation is still the most important part of my daily life. I seek to manifest and share Love, Joy and Oneness in my life and music. And to do that I seek to stay in touch at every moment with my inner heart, my soul and resonate with the inner life through my music and the actions of my life.
For me music is a way to express love and provide listeners with a nurturing place that inspires their own inner experience. If I can inspire one person through music that is immensely satisfying.
Q6. Do you feel the spiritual aspect of music has an appeal among the young generation of listeners?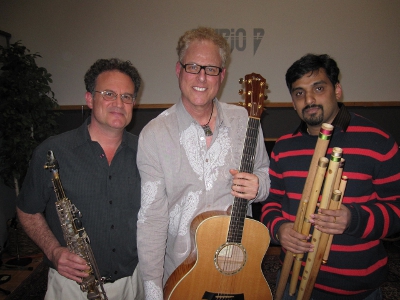 Great question. Young people are increasingly vibe-ing on technology and the increasingly faster speed of life as a result of computer processing, social networking and the instant availability of information.
My experience is that technology is useful for manifesting in the material world. But technology and speed of life do little to satisfy my soul. My soul is satisfied when I live and act soulfully and when my music is an expression of something from deep within. I am most satisfied when I am in a meditative, contemplative space. And the spiritual aspect of my music emerges from there.
Q7. Have you visited India? How has been the experience?
I have visited Nepal several times. I hope to visit India very soon to perform and be blessed by the Soul of India. I do feel very close to India having studied with Guru Sri Chinmoy for several decades. I also recently had the honor of recording with the east/west fusion saxist George Brooks and world flutist Ravichandra Kulur and you'll hear that on my CD.
Q8. Any message or suggestions to the readers?
Live Love. Make love a part of daily life. That's a fine way to connect with the Soul and manifest and spread goodness. Success can come from contributing to betterment of the global family through love, kindness, generosity, spirit, and service. Do all good things. That is the message of my music and hopefully the message of my life.