Interview with Deepak Ram–a flutist

Deepak is an incredibly versatile artist who is well known for his evocative performances in traditional North Indian classical music, his collaborations with musicians of other genres, his innovative compositions and for his excellence as a teacher.
Deepak Ram's first love is North Indian classical music. Indeed, he is an accomplished soloist. He is a delightful and captivating performer, combining technical mastery with personal charm. He has performed in the United States of America (where he is currently based), South Africa, United Kingdom, Ireland, France, Austria, Germany, Lebanon, Turkey, India and Holland and had the honor of accompanying his teacher, Pandit Hariprasad Chaurasia, in Geneva, London and Paris.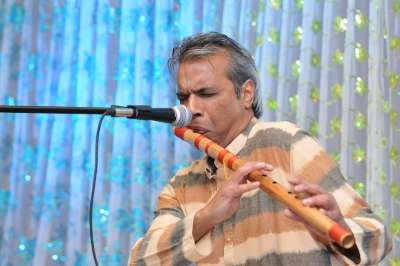 Deepak began his formal training in bansuri and tabla under Sri Jeram Bhana in South Africa in 1975. Two years later he was off to Mumbai, India to study flute under the late Sri Suryakant Limaye (India's master flute maker); he simultaneously spent a short time under flautist, Pandit Vijay Raghav Rao.
It was in 1981 that his dream was realized when he became the disciple of the celebrated flautist, Pandit Hariprasad Chaurasia (with whom he continues to study from time to time). During this period he also studied tabla under Sri Yashwant Padhye and music theory and voice under Pandit Rajaram Shukla.
Deepak earned a Masters degree in Music (MMus) from Rhodes University, South Africa, in 1996 for his thesis, Exploring syncretism between Indian and western music through composition.
Deepak's versatility is apparent in his numerous collaborations with musicians of various genres. These include performances with jazz pianists Darius Brubeck, Melvin Peters and Bheki Mseleku, Tunisian oud player and vocalist Dhafer Yousseff and the popular South African band Tananas. Most recently, Deepak performed with South African musicians like Sibongile Khumalo and Rwandan diva, Cecile, on Robben Island in South Africa's millennium concert hosted by presidents Nelson Mandela and Thabo Mbeki.
Deepak has six solo albums to his credit and as a session musician can be heard on over twenty five albums. His bansuri can also be heard on movie soundtracks, such as The Fast And The Furious, Matrix Revolutions, Stealth, India-Kingdom of the Tiger and the Indian film, Maya.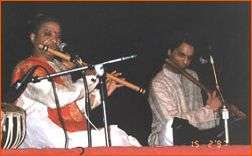 In 2000, Deepak was awarded Best Instrumental Album at the South African Music Awards for his album Searching for Satyam. His previous album Flute for Thought also saw him being nominated for Best Male Artist and Best Instrumental Album in the 1999 South African Music Awards. Both these albums feature Deepak's compositions and arrangements based on elements of North Indian music.
Deepak's knowledge of both Indian and western traditions is evident in his compositions which range from pieces for jazz groups, western flute quartets (flute, violin, viola and cello), choral works and ballets to orchestral pieces. His last work "Surya", for classical guitar and bansuri, commissioned by the award-winning guitarist Mesut Ozgen, was premiered at the University of California, Santa Cruz.
One of Deepak Ram's fortes is his ability to communicate his knowledge, making him an excellent teacher. He served as visiting professor in Indian Music at the University of California, Santa Cruz. He lectured full time for four years at the University of Durban-Westville, South Africa and has conducted many workshops in Indian music in the United Kingdom, Ireland, Holland and South Africa. He also has several publications to his credit, including an instruction booklet, Harmonium Made Easy.
We had an email interview with Deepak.
Q1. Tell us something about your childhood days. What was it that made you attracted to music?
I was born and brought up in South Africa, in a household that was filled with the music of Pt Ravi Shankar, John Coltrane , Bhajans and Hindi filmi songs. I had heard bansuri for the first time, when I was about ten years old. I could not get hold of one, so drew the images of holes on a ruler, and played my imaginary Bansuri for a while, until I was reprimanded by a school teacher.
Q2. What is in the bamboo flute that you picked as your instrument?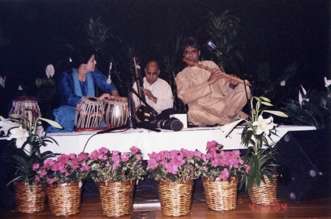 When I heard the album CALL OF THE VALLEY, I felt like I was hearing the voice of God through that bamboo…My brother then made me a flute with an iron pipe, and that was my first real instrument. At the age of fifteen I discovered a teacher of Indian Music, who lived at Tolstoy Farm (Gandhi ji's House) about three kilometers from my home. Shri Jeram Bhana introduced me to the basics of bansuri and tabla. After my first lesson I felt that I was born again, and knew that life was going to take a turn for the better. During the two years I spent with Jerambhai, I forgot everything else including high school, and devoured every LP and book on Indian Classical music i could lay my hands on. My parents with much courage gave in, and took me to Mumbai, where I first became the student of Shri Suryakant V Limaye, who, along with his family, took me in his home and treated me like a son.
Q3. Talking about training under Pt. Hariprasad Chaurasia, tell us something about those days? What was the schedule, teaching methods and how you miss those days?
In 1981, Limayeji my first teacher took me to see Pt Hariprasad Chaurasia, who accepted me as a disciple, thereby shaping the rest of my life.
Guruji's lessons took the traditional form of aural training, but sometimes wrote phrases, taans, and murchana in my note book. The lessons would sometimes be four hours long ! about two to three times a week. During this period I also studied vocal with Pt Rajaram Shukla and tabla under Pandit Yashwant Padhye.
Q4. Do you feel that learning from such an exalted player helped you increase your repertoire as a musician and made you understand wider angles of music?
Yes!! Pandit Hariprasad Chaurasia developed the technique of the bansuri to such a high degree that it took a lot of work to get the place where I began to feel comfortable in my own 'bamboo'.
Q5. Performing before a foreign audience is a challenge and very fulfilling experience at the same time. How do you feel being on-stage before a foreign audience allows you to be creative, experimental but still sticking to the boundaries of classical music?
Performing for foreign audiences in not really a challenge, since Indian Classical Music, is heard the world over. The challenge is sometimes dealing with aficionado who study for a few months/years and then have strong opinions about the art.
Q6. In the modern age, fusion music has helped classical music to regain the popularity among the younger generation. Do you like playing with different musicians coming from different genres of music?
I love collaboration and also since I work as a composer, I have the opportunity to study other instruments, and genres of music.
Fusion is not new, during the early days of the British Occupation of India, there were groups of Indian musicians and western musicians playing together. A relative of Swami Vivekanand, worked as a composer bringing western classical and Indian classical musicians together, before recordings were in vogue.
A lot of fusion concerts happen with no prior preparation, this can be brilliant and sometimes not.
Q7. What other passions and interest do you enjoy?
Mostly reading and watching movies.
Q8. What impact music has on you as a person?
This is a difficult question: music occupies almost all my waking hours. Life would not mean anything to me without music.
At the risk of sounding esoteric: music can articulate all the workings of life, nature and God, if one is prepared to listen, really listen.
Q9. Given the chance, what you would like to do apart from playing flute?
At this stage, nothing….If I could not use my breath on the flute, I would rather not breathe.
Q10. What would you like to convey to our readers among whom would be some perspective flutists and musicians?
It's a long path, but a wonderful one. Do not look to the end, walk slowly on this path and things will be revealed.