Interview with Al Petteway–a Grammy Award winner guitarist

Al Petteway has played music professionally since he was twelve years old, performing nearly every type of popular, folk and classical music. Though his primary instrument has always been the guitar, he has also studied lute, string bass, percussion and music composition. His compositions for acoustic finger-style guitar are strongly influenced by his love of Celtic music and his own roots in folk, rock and blues.
His recordings, music books, and instructional videotapes have helped to win him international acclaim and appearances on National Radio and Television Programs. Al has won a GRAMMY and was awarded FORTY FIVE "Wammies" by the Washington Area Music Association including the top honors of "ARTIST OF THE YEAR" and "MUSICIAN OF THE YEAR". He was the recipient of two Maryland State Arts Council Individual Artist Awards for Music Composition and has performed at the Vice President's House and The White House. His playing is featured on more than sixty recordings by some of the World's best known Folk and Celtic musicians. He has been Artist In Residence at The Kennedy Center and at Warren Wilson College. He performs exclusively with his wife, Amy White, records and teaches private lessons in their home studio in Fairview, NC and is the Guitar Week coordinator for the world famous "Swannanoa Gathering" music camp at Warren Wilson College near Asheville, N.C.
We had an email interview with Al.
Q1. Let's go back to your childhood—tell us how you came to like music?
I can't remember a time when I didn't like music. I was always attracted to rhythm and sounds.
Q2. What was the main factor that made you pick up guitar as your instrument? Later on, as you studied lute and other string instrument, how you liked them?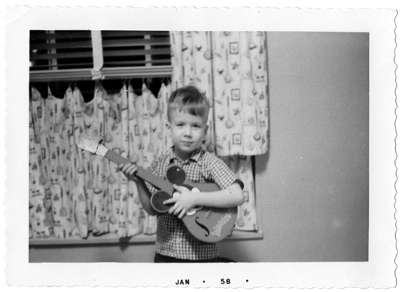 My Father was a Chet Atkins fan, so I grew up listening to Chet and other guitar players. I was a fan of pop music, especially The Beatles, and wanted to play electric guitar. My Dad told me that he would buy me a decent guitar when I learned to play like Chet Atkins. I worked hard and learned to play two of Chet's tunes from listening to the recordings. True to his word, my Dad took me to buy a good electric. I wanted a Fender Stratocaster, but he convinced me to buy a Gibson 335 instead since it was a better quality instrument. This was in 1963.
I played in bands through high school and played percussion and later string bass in the school's Symphonic Band. When it came time to go to college, I decided that I wanted to major in music. My primary instrument was String Bass and my major was composition. The Madrigal singers were looking for a lute player and since I already played guitar, the school's music teacher thought I'd be the perfect choice. It took some time to learn how to play it properly, but it was worthwhile and it opened up a whole new world of music. I was still very actively a fan of Rock music, however, and left school after two years to become a full-time club musician. I couldn't afford a lute or a string bass, so I focused on electric guitar and bass. It wasn't until the late 1970's that I became interested in Bluegrass and learned to play mandolin and banjo a bit. These days my music is a mix of Celtic, Appalachian, Rock and Blues influences, with a bit of Renaissance thrown in as well. The result is a unique sounding music that seems to appeal to a lot of different people.
Q3. Tell us something about your training—how and where you learnt music and how was the experience?
I studied music theory in High School and then majored in Music Composition in college while playing String Bass in the Norfolk Ballet. After two years, I left to play music full-time in the "top 40" club circuit. I believe that I learned as much from playing other people's music six night a week as I did in college. I spent many years trying to get back to the space that got me into music originally. I wanted to enjoy music without having to analyze what I was listening to. I can now turn that mental process on and off whenever I like, but I feel that I learn much more by listening than from books.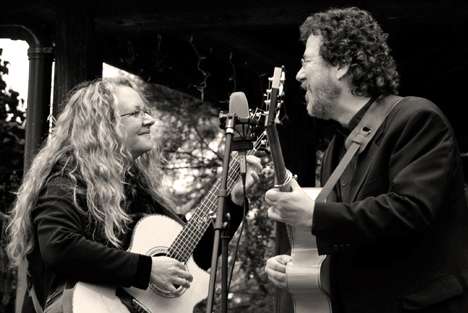 These days, I play original music with my wife Amy White. She grew up in a household where both parents were professional Classical musicians, but she never learned to read music. She is a great musician and has an amazing ear for music. She has been an inspiration to me by continuing to come up with fresh and compelling music out of thin air. She never writes anything down, but she remembers it all.
Q4. Being a professional guitarist, what qualities do you feel distinguish you from others in terms of variety, creativeness, experimental-attitude, etc. Do you feel learning different string instruments added to your own versatility?
Knowing a bit about other instruments really helps expand one's musical palette. When we are recording a new album, we many times include a variety of acoustic stringed instruments to provide interesting textures. I have been very fortunate that my music has been so well accepted. I think many guitarists enjoy it because it's not all that difficult to play and listeners enjoy it because it is accessible and easy to listen to. My focus has always been on melody and tone. I studied enough Avant Garde and experimental music in college to be satisfied. I don't need to do that these days.
Q5. Tell us about your collaborations and how you felt playing with different artists. How do you feel collaborating with other musicians helped you?
I have always been extremely lucky that I played with musicians that were more accomplished than I was. It was wonderful to be learning from them. Playing Rock, Funk and Blues on electric guitar and bass gave me one perspective. As a "house musician" for a well known music hall in northern Virginia, I was able to play with many recording artists from the Folk and Bluegrass worlds. As one of the musicians on the Maggie's Music label, I worked with a variety of Celtic musicians and learned a whole new approach. All of these experiences have colored my guitar playing and they all sneak into my writing style. I love not being limited by a particular genre. I have appeared on over 70 albums by a variety of artists and I learned something with every session. I worked with producers and engineers that were world class and they taught me so much more about the whole process of making music.
Q6. Winning the Grammy Awards is always one of the most cherished moments for a musician. How you felt when you did?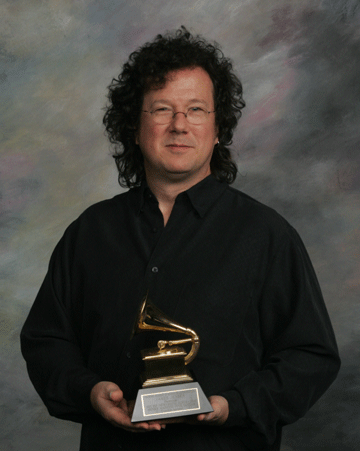 I felt honored to have won a Grammy, but since it was shared with 11 guitarists, I can't take too much credit for it. When Amy and I won the "Indie" award for our album Gratitude, it was more personally satisfying. Being recognized by the readers and editors of Acoustic Guitar magazine has meant a lot to me as well.
Q7. What has been the most satisfying moment of your music career?
That's a hard question. I think maybe the concert I did at the National Geographic which combined my photography and music into one event was a high point. I think that I get the most satisfaction from playing for a small audience through a really good sound system and hearing their reactions to certain tunes. That feels good.
Q8. Given a chance, what else you would like to do in life—right from music and anything else?
I have done everything I had hoped to do in my life, both musically and creatively. I have been enjoying photography more and more and would like to be able publish a book of my photos someday. But, over all, I feel extremely fortunate that my dreams have been fulfilled.
Q9. Tell us something about your instruments. How you select them for a particular concert or recording?
I usually take two guitars to a performance and tune them differently. I have one guitar that was made by a dear departed friend Larry Sifel, that is my primary recoding guitar. I also have a Circa guitar built by John Slobod and the "Al Petteway Series" guitar built by Bill Tippin. All three of these guitars are amazing and have different voices. I have a variety of carbon fiber guitars made by RainSong that come in very handy as well. They can be recorded and EQ'd to sound like almost anything. I sometimes use an Octave Mandolin made by Stefan Sobel or an Old-Time banjo made by Lo Gordon for recordings. I love playing fret-less electric bass and incorporate that into my recordings whenever possible.
Q10. Do you like live presentations or recording in a studio and why?
I think I enjoy live performance more because the mistakes just go by and disappear. In a studio setting, I have to be perfect and I'm really aware of that, so it's much harder to relax. Then again, in a recording situation, I can really flesh out an idea and make it into something special that will last for a long, long time. And the tone of the guitar is much easier to capture in a studio setting.
Q11. Any message for our readers and young guitarists?
Learn from everyone but try to find your own voice. Be humble and nice to people you meet in the business and that will help you in so many ways. There are many guitarists who are incredibly talented, but they never learned to work with people. They have a much harder time of it. The biggest thing is to never stop learning. Inspiration can come from almost anywhere.