Interview with Kala Ramnath–a violinist that makes it sing

"If Mozart had been transported to the South Asian subcontinent this is what he and improvised Western classical music might have sounded like. The comparison is not thrown in to befuddle or impress. Kala Ramnath is a musician of giant – like qualities"……. Jazzwise Review 09/2004.
Maestro KALA RAMNATH, the contemporary torch bearer of the Mewati Gharana, stands today amongst the most outstanding instrumental musicians in the North Indian classical genre. Born into a family of prodigious musical talent, which has given Indian music such violin legends as Prof. T.N. Krishnan and Dr. N. Rajam, Kala's genius with the violin manifested itself from childhood. She began playing the violin at the tender age of three under the strict tutelage of her grandfather Vidwan Narayan Aiyar. Simultaneously she received training from her aunt Dr. Smt. N. Rajam. For fifteen years she put herself under the training of Mewati vocal maestro, Sangeet Martand Pandit Jasraj. This has brought a rare vocal emotionalism to her art.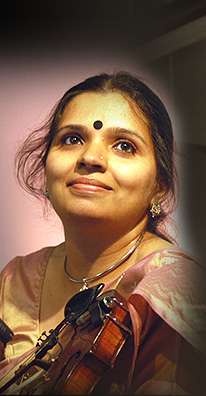 Kala's violin playing is characterized by an immaculate bowing and fingering technique, command over all aspects of laya, richness and clarity in sur. All this innate artistry and technical brilliance combined with a rare and exquisite emotional quality are the hallmarks of the style. She has completely revolutionized the technique of playing the violin by taking this instrument so close to vocal music that today her violin is called "THE SINGING VIOLIN".
Kala has performed at all major music festivals in India, prominent among them being Shankarlal Festival-Delhi, Tansen Samaroh-Gwalior, Saptak- Ahmedabad, Pt Motiram and Pt. Maniram Conference- Hyderabad , Spirit of Unity concerts-Delhi, Swami Haridas Sangeet Sammelan-Mathura, Sawai Gandharva Music Conference-Pune, Sankat Mochan Sangeet Samaroh-Varanasi, Doverlane Music Conference-Kolkata, Baba Harvallabh Sangeet Sammelan-Jullunder, Ustad Amir Khan Sangeet Samaroh-Bhopal, Gunidas Sangeet Sammelan-Mumbai,Delhi and Bangalore and IMG Xaviers Festival Mumbai etc to name a few.
In 1984, she won the President's award in the prestigious AIR music competition. In 1988, she became the first ever-Hindustani musician and violinist to record for CBS India Ltd. Besides being a brilliant and charismatic musician; KALA has also an outstanding academic record. She is also a top grade artiste in Radio and Television. She has been honored with The Rashtriya Kumar Gandharv Sanman for the year 2008. Other prestigious awards are the Pandit Jasraj Gaurav Puraskar, Sur Ratna and Surmani to name a few.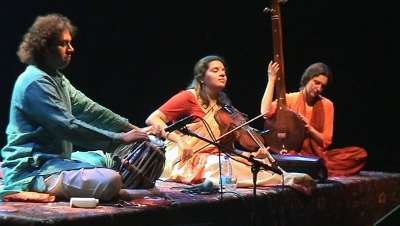 Kala has won the acclaim of discerning audiences and critics worldwide. She has performed in some of the most prestigious international festivals internationally which also feature some of the most famous musicians of the world. Some selected ones are: World Music Festival in Montreal Canada, Rhythms of India in Ottawa- Canada presented by the Canadian Arts Council, Festival of India presented by Government of India in Dhaka Bangladesh, Celebrations of India's fiftieth year of Independence in Europe by ICCR, North Sea Jazz Festival in Cape Town.
She has also extensively toured the United States, Canada, UK, Germany, Switzerland, Netherlands, Italy, France, Belgium, Greece, Russia, South Africa, Seychelles, Middle East, Trinidad, Kenya, Tanzania, Australia, Nepal, Bangladesh, Mauritius etc. Some other concerts have been in some of the most prestigious venues like Queen Elizabeth Hall London, Sydney Opera House etc. Her lecture demonstrations and workshops in Music have been highly appreciated in these countries.
Of late, Kala has been experimenting with several types of genres of music – both within the traditions of Indian Classical music and also crossovers to other types of music. Her violin-vocal duets with Sanjeev Abhyankar and violin-sitar duets with Purbayan Chatterjee have taken the music world by storm and have been highly acclaimed by critics and connoisseurs.
Her recent forays into fusion and world music have been a very great success. After having worked and experimented with some world famous musicians like Ustad Zakir Hussain and his ensemble, Ray Manzarek of the Doors who plays the keyboards in the genre of Rock music, Jazz Saxophonist George Brooks and Guitarist Eduardo Niebla who plays Spanish Flamenco music on the Guitar, Latin Percussionist Giovanni Hidalgo, renowned drummer Terry Bozzio, Eyvind Kang and his new age music with the classical orchestra in Bologna and Rome, Kala also performs for a unique group called "Raga Afrika" which is a collaboration with some well known African musicians – among them are afro-jazz guitarists Odutayo Kunle and Lucas Khumalo and percussionists John Hassan and Frank Paco.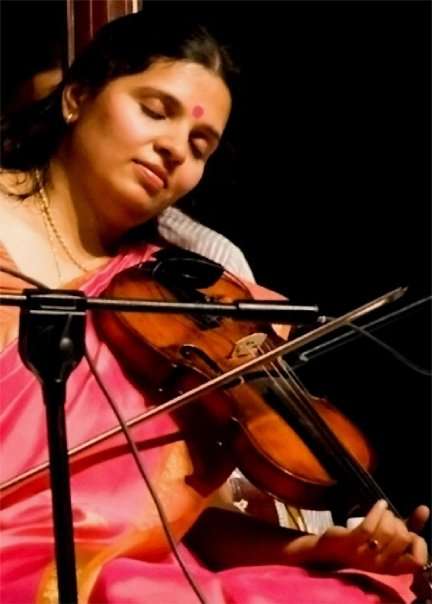 This is for the 1st time that Indian and African music have come together, a concept initiated by Kala Ramnath with producer Nisaar Pangarkar. This group has performed in some of the TOP festivals internationally like the "North Sea Jazz Festival" in Cape Town and has got rave reviews for their performances. She has collaborated with renowned Hollywood composers George Acogny and James Newton Howard in some Hollywood Films.
Besides all these, she has many cassettes and CD's to her credit. The prestigious Songlines Magazine reviewing World Music voted the Sense World Album "KALA" and "SAMVAD", Top of the World in its charts in 2004 and "YASHILA" in 2006. Songlines celebrated their 50th issue in March 2008 by gathering 50 of the world's greatest instrumentalists to form a super group. Kala finds her place as one among them.
We had an email interview with Kala.
Q1. Let's go back to your childhood. How it came out that you liked music?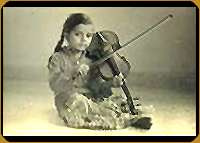 I was born in a family where music has been part of us for six generations. I am the seventh generation. My ancestors were court musicians in the state of Travancore in Kerala. I was started in music at the age of two and a half exactly. I must have been very musically inclined. Thats all I can say.
Q2. What was the main factor that made you pick up violin as your instrument?
As I said earlier, violin was played by two generations before me and thats why I was given the violin. Four generations were vocalists and the next two before me were vocalists and violinists.
Q3. Tell us something about your training—how and where you learnt music and how was the experience?
My grandfather Vidwan A. Narayana Iyer was my first guru and then I learnt under my aunt Dr. Smt. N.Rajam and later on under Pandit Jasraj who gave me my distinct identity as a musician.
My Grandfather and my aunt gave me the technique but musically I bloomed under Pandit Jasraj and it was under him that my violin started to sing and I became a thinking musician which made me bring in the required changes in technique to make my violin sing.
All this could not have happened had not my grandfather maintained a very strict regimen of practice for me and made me solid in technique which in turn gave me a lot of confidence to experiment. I am most indebted to him. He was a very strict task master.
Q4. Violin has made itself an indispensable part of Indian music scene. How do you feel it caters to the demands of Indian classical music, though being a foreign instrument?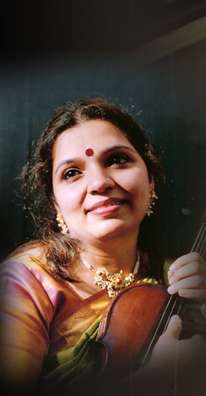 The ancestor of the violin is the Ravan Hatta which is still found in India. That has a finger board which is 22 inches long and traverses three octaves and played with a bow. The violin has a finger board 5 and a half inches long with four strings traversing three octaves and again played with abow. 5.5multiplied by 4 is 22. Also it is said that this Ravan Hatta traveled to Persia with the Arabs when they came into India for trade in the 6th century and became the Rababeh. From there, this Rababeh went into Spain during the Moors invasion in the 10th century and became the viol and then went into Europe to become the viola and then the violin and return to India on the 17th century.
According to me, the limitless possibilities in this instrument has blossomed only when Indian music was played on it.
Q5. Being a professional violinist, what qualities do you feel distinguish you from others in terms of variety, creativeness, experimental-attitude, etc.
My open mind towards other genres of music has helped me to work with musicians from different genres and has enhanced my creativity.
Q6. You have performed in many countries—how do you feel the audience appreciates violin playing in a very different style right from the posture, its handling and of course the music?
As I said earlier, The audiences love the sounds produced by the Indian violin and are amazed at how the violin could sound so much more beautiful in Indian Music. They love the posture too as it does not hurt the neck like it does in Western Music.
Q7. How important is it for a violinist to keep collaborating with other musicians to enrich his/her own repertoire?
These are individual preferences. As far as I am concerned, I feel I have benefitted a lot by my cross genre ventures.
Q8. Tell us about your collaborations and how you felt playing with different artists.
I have played with Afro Jazz musicians from Africa and have a group called Raga Afrika. I have a band called Global Conversation with renowned Saxophonist George Brooks. I also have played with Spanish Flamenco guitarist Eduardo Niebla, Guitarist Jan Kuiper from Netherlands and a whole lot of other musicians. I have also worked with new age music and each collaboration has only enriched me as a musician.
Q9. What has been the most satisfying moment of your music career?
Every time, I have been able to touch the hearts of the listeners has been a satisfying one and the fact that I was the chosen one to do that. I feel blessed to play this music and thank the almighty every moment for this gift.
Q10. Hailing from a country where values and tradition has long been associated with music, how do you feel you are able to upkeep the demands on classical realms and the modern freedom?
If one can stay without confusing one system from the other which unfortunately happens all the time, then its ok. When one plays classical stay rooted to it and when one is experimenting then stay within that hemisphere is what I would say.
Q11. Given a chance, what else you would like to do in life—right from music and anything else?
Nothing. Just keep doing music.
Q12. Tell us something about your instruments. How you select them for a particular concert or recording?
I have an old Italian violin and thats what I use to play all the time.
Q13. Any message for our readers and young violinists?
To the violinists–this instrument is difficult but keep at it and don't give up.
To the readers: Please support our music by attending concerts and most importantly support the upcoming artistes  by attending their concerts, buy their CD's etc and not just listen to the established ones. The hunger in the upcoming artistes make them give their best and its upon us to support and encourage them which unfortunately is not happening these days.