Interview with George Brooks—bridging Jazz and Indian music

George Brooks is a prolific and diverse saxophonist and composer, acclaimed for successfully bridging the worlds of jazz and Indian classical music. He is the founder of several important Indian fusion groups including Summit with Fareed Haque, Kai Eckhardt, Zakir Hussain and Steve Smith, Bombay Jazz with Larry Coryell and Ronu Majumdar and the Kirwani Quartet with Dutch harpist Gwyneth Wentink and Indian flute maestro Hariprasad Chaurasia. 2010 will see the release of George's new Spirit and Spice CD (on Brooks' Earth Brother Music label) as well as Abstract Logix's release of the Raga Bop Trio CD featuring George, drummer Steve Smith and south Indian electric guitar phenomenon, Prasanna. In the fall of 2010 he will reunite with his mentor/colleague Terry Riley and Asian Underground innovator, Talvin Singh for an extensive tour of Europe and the UK.
George's deep understanding of raga has lead to collaborations with many of India's most respected artists including Zakir Hussain, Hariprasad Chaurasia, Kala Ramnath, U.Srinivas, Ronu Majumdar, Vikku Vinayakram, A. Sivamani, Louiz Banks, Shankar Mahadevan and Dr. L. Subramanium. He has performed at major festivals throughout India and appears on numerous Indian recordings and the soundtracks of Indian films.
His facility with genre bending music has led to distinctive collaborations with American minimalist composer, Terry Riley, cellist Yo-Yo Ma, The Mark Morris Dance Company and Merchant/Ivory Productions. George has performed on many of the worlds great stages including the Liverpool Philharmonic, the Barbican and Queen Elizabeth Halls in London, the Hong Kong Cultural Center, the Esplanade in Singapore, Amsterdam's Concertgebouw and Muziekgebouw. He has appeared at major festivals in North America, Europe and Asia as well as premiere jazz clubs around the world.
Admired as an innovator, George remains grounded in American vernacular music. In 2008 George was the featured saxophone soloist on John McLaughlin's Grammy nominated Floating Point CD. He has performed or recorded with blues greats Etta James, Albert Collins, Roy Rogers, Clarence "Gatemouth" Brown; jazz innovators Henry Kaiser, Wadada Leo Smith, Anthony Braxton and Jaki Byard; R+B legends the Temptations, Mary Wilson, the Shirelles, Mexican superstar Juan Gabriel, Doors pianist Ray Manzarek and contemporary singer/songwriters, Jackie Greene, Barbara Higbie and Leni Stern.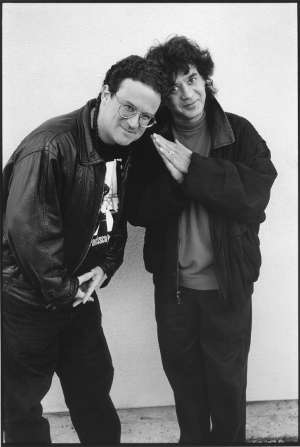 George received the 2007 American Composers Forum "Global Harmony Prize", which commissioned the score for Mirrors of Mumbai an Indian Jazz Opera. In 2009 the American Composers Forum commissioned Double Moire an hour-long composition for saxophone, bass and drums, with recitation by beat poet Michael McClure, based on McClure's poem Double Moire for Francis Crick. The SFMOMA commissioned Brooks in 2009 to compose an artist's response to its new Rooftop Sculpture Garden. Brooks created "Alphorn – for Hans-Christoph Siegmann" for saxophone quintet, bass clarinet, gongs and piano.
Born in New York City, George Brooks began his early musical studies with saxophonist and arranger, Frank Foster. His musical education continued at the New England Conservatory of Music where he received his Bachelor of Music specializing in Saxophone and Jazz Studies. His teachers included renowned saxophone guru, Joe Allard, and composer/theorist George Russell. While living in Boston, Brooks performed regularly with Jaki Byard's big band The Apollo Stompers. He was also featured in ensembles led by Gunther Schuller, Jimmy Guiffre, and Slide Hampton.
In the1980s Brooks took two extended trips to India where he met and studied with master vocalist, Pandit Pran Nath. For more than a year, Brooks immersed himself in the language, music and culture of north India. He remained extremely close with his Guru until Pran Nath's death in 1996. Throughout the 1980's and 1990's, Brooks regularly toured with American minimalist pioneer Terry Riley. Together they performed in the U.S., Europe and Japan, often with sitarist Krishna Bhatt. Brooks was a founding member of Riley's Khayal ensemble, a unique, polyrhythmic, improvisational chamber group. He premiered and recorded Riley's "June Buddhas" with the Brooklyn Philharmonic and premiered Riley's "New Islands" at P/N Hall in Tokyo.
In 1996, Zakir Hussain and Moment Records released Lasting Impression, Brooks' CD debut as a leader. This highly acclaimed recording sparked a relationship between Brooks and Hussain that has led to concerts worldwide and the recordings Night Spinner, co-produced by Brooks and Hussain for Moment Records and Summit for Brooks' Earth Brother Music Label. These CDs have been touted as the best Indian/jazz fusion since John Mclaughlin's Shakti.
Brooks has taught on the faculties of Mills College in Oakland, The Jazz School in Berkeley and UC Santa Cruz. He lives in northern California with his wife, theater producer/composer Emily Klion, and their three children.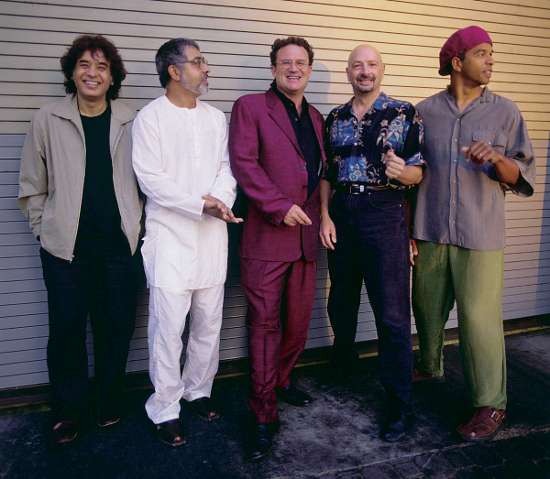 We had an email interview with George.
Q1. Starting from the start, how you picked up music? Tell us something how you got oriented to it?
My interest in music developed when I was quite young. My fist love was with American folk music. I would often entertain my elementary school by singing the songs of Peter, Paul and Mary, Pete Seeger and other American icons. This soon evolved into a love of pop music when the Beetles made their appearance on the American music scene.
Q2. Tell us something about your early life.
I was first exposed to jazz in my early teen years. I was fortunate to live just outside of New York City and would regularly take the train to Manhattan to attend concerts at the legendary Village Vanguard. Bill Evans, McCoy Tyner, Sonny Rollins, Betty Carter and Rahsaan Roland Kirk were regular performers at that small venue and I would sit at their feet absorbing all I could.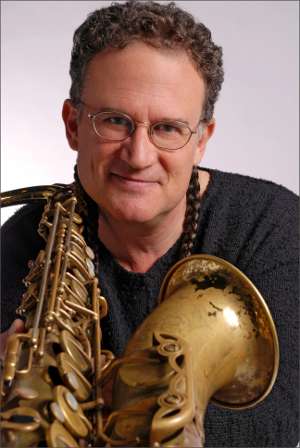 Q3. How saxophone became a choice? What was unique in it that made you pick it?
I started on the saxophone at ten years of age. The local school all had a concert band and I could choose to play whatever instrument I wanted. I wanted to play drums, but my mother (handling three young boys) vetoed that idea, instead encouraging me to play a "musical" instrument first. I would march around the house for hours honking what must have been rather raucous and not very "musical" tones.
Q4. Talking about fusion music, how do you feel it brings out the varied colors of different forms of music?
I am not really sure what "fusion" music means. I became a serious student of jazz when I was 18 or 19 years old. At about the same time I heard my first recordings of classical Hindustani music and fell deeply in love. I was attracted to the melodic inventiveness and spiritual underpinnings of the music. It felt quite similar to the music of John Coltrane in which was l also absorbed at the time. I was quite young in my musical development, looking to understand my place in the musical continuum.
It was immediately clear to me that I would need to immerse my self in both musical streams. Fortune would have it that I met vocalist Pandit Pran Nath in my early twenties. I spent a year in India studying classical vocal music and attempting to transfer what I was learning to the saxophone. This set the foundation for my exploration to find my own voice in the confluence of jazz and Indian classical music.
Q5. While collaborating with musicians around the world, how you people connect while composing the music?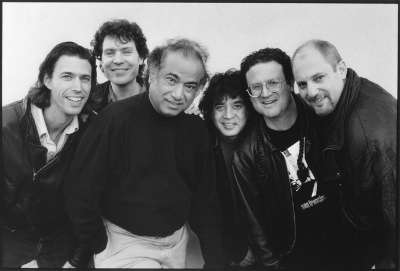 Given the fact that sheet-music is not everybody follows?
Every great improvising musician (western or Indian) I have worked with has great ears (the ability to listen and learn). Indian classical musicians are accustomed to learning everything by ear, whether lessons from their guru or musical lines in a Bollywood recording studio. Because of my classical training I can speed up the process by singing the melody lines in sargam. Also these days we can send each other mp3s via e-mail and prepare before sitting together. For those who are comfortable reading I write in traditional western notation with a few modifications for condensing tihais and korvais.
Q6. Talking about your Indian connection, how do you feel knowledge about India has enriched you as a musician?
The effect of India on my musical development has been wide and deep. My relationship with my Guru, Pandit Pran Nath, taught me about the essence of sound and the meaning and power inherent in each note. In his voice I could hear celestial truths expressed in the relationships between the notes. I spent many years studying the essence and quality of the sound of my instrument. I also learned that spiritual commitment can form the foundation of one's musical practice.
India is the land of melodic inventiveness. I remember the first time I heard Hariprasad Chaurasia perform he played an alaap in rag bhupali, a collection of just five notes for over an hour never repeating himself. I think this is what attracted Coltrane to Indian music.
Q7. What has been the best moment in terms of collaborating with different musicians?
I have been very fortunate to have worked and studied with some rather extraordinary musicians and there have been many special moments. The best moments come when we are listening, trusting and open to creative possibilities. Some of these moments have come during rehearsals or even while practicing alone, when I suddenly get glimpse a sliver of musical truth that I had not seen before.
Some moments that stand out are:
Sitting at the feet of my Guru-ji, witnessing centuries of musical wisdom expressed in one note. Performing with Terry Riley and Krishna Bhatt. Playing with my group Summit – with the powerful rhythm section of Zakir Hussain and Steve Smith supporting me.
Sitting on stage with Hariprasad Chaurasia, an awe inspiring master. Performing with John McLaughlin, Zakir and Louiz Banks in the early morning for Allah Rakha Khan's memorial concert. Playing jazz duets with Larry Coryell. Standing back in the horn section, supporting the Temptations while thousands of their fans rock and sway.
These are all transcendent moments that I am extremely fortunate to have experienced
Q8. While talking about carving a niche in music industry and being a professional, what do you think makes an artist stand-out? What makes him/her being liked, or sell if we talk business-mindedly.
I don't know too much about the music industry. I try to stay true to my musical path and work the best musicians I can. I still practice daily and try to keep listening and learning.
Q9. Any advice to future and aspiring saxists?
Listen to the great jazz saxophone innovators like – John Coltrane, Sonny Rollins, Charlie Parker and Cannonball Adderly.
Listen to as much creative music as possible. Study and practice hard. If you find something that inspires you work relentlessly to attain your musical goals. But just as important, establish strong human relationships. Be supportive of your musical peers and if you attain some measure of success don't forget to help those on their way up.