Interview with David Arkenstone–a musician par excellence

Look back at the first 20 years of David Arkenstone's career and you'll find his music being influenced by every dimension of his personality: the contemporary-progressive musician; the ethnomusicologist; the Sibelius disciple; the internal time-traveler, and the deep-space dreamer.
David has always been inspired by the process of blending technology and music to create a multimedia fusion for producing amazing sounds. By working with state-of-the-art technology David combines the highest quality electronic samples with acoustic instruments played by the finest musicians including David himself. The textures come together and form a unique sonic blend that works well in today's modern television, film, commercial, and video game scores.
'Technology has produced some wonderful tools for making music. The computer allows me to fully orchestrate my pieces and really fine tune them. I have always loved the sound of the orchestra, and now I believe I have refined a wonderful blend combining the best elements of the acoustic world, with the electronic world,' states David.
David has established himself as one of the best contemporary-instrumental musicians of our time. By combining the musical styles of classical, world, classic rock, and new age, he continues to create distinctive tracks that set him a part from other composers. The release of his debut recording, Valley In The Clouds, in 1987 was described by one reviewer as one of the most exquisite electronic new age recordings ever produced. Valley In The Clouds launched Arkenstones career and began a journey yielding him three Grammy Award nominations, 16 solo recordings, and over 1 million records sold.
While he is primarily a keyboardist, his skill on guitar, flute, percussion, and many other instruments, has allowed David to explore a variety of sonic textures on his recordings. His versatility is showcased in the interstellar majesties of two albums in particular; 'In The Wake of The Wind' and 'Quest of The Dream Warrior.' From here David went on to record the traditional power and mystery of 'The Celtic Book of Days.' released in 1998, followed by the beautifully vivid sounds of 'Caravan of Light' in 2000.
A writer once noted that if a persons imagination could earn frequent-flyer mileage, David would have already earned a couple of round trips to Saturn. 'A love for travel and adventure is just something thats embedded in my personality,' says David. 'Sometimes I get the feeling that I'm painting as much as I'm composing. I tend to envision a place where I would like to go, or an adventure I would like to take, and I let my mind run free. I've gotten countless e-mail messages from listeners who love to take these journeys with me. I'm sometimes surprised by how powerfully people respond to my music.'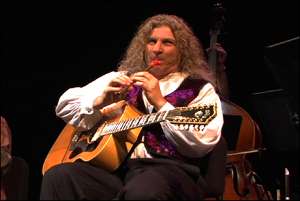 Of his many musical excursions into imagined lands, it seems only natural that Atlantis be on Davids current horizon. 'Atlantis: A Symphonic Journey' is one of David's most recent CD's and it was released September of 2004. 'This music is my tribute to the majesty and mystery of the great civilization of Atlantis.' Inspired by the spirit of peace and enlightenment that surrounded its inhabitants, Arkenstone has created a rich and opulent sonic picture of this forgotten land, evoking mystery and enchantment by incorporating exotic soundscapes of voice, instrumentation, and melody.
David Arkenstone continues to compose, imagine, create, and execute some of the most unique musical orchestrations in the industry today. He has a unique flair for providing appropriate and evocative music for any on-screen situation. His blend of world music and writing for the full orchestra has proven a winning combination with millions of fans around the world.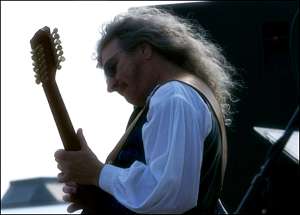 We had an email interview with David.
Q1. Moving back to the early days of your life, share with us something from your childhood—how you became attracted to music?
I distinctly remember being 4 or 5 years old and being fascinated by the Nutcracker music by Tchaikovsky. I desired to know how those sounds were made, and why they made me feel the way it did. Also, my parents were both musicians, so there was a lot of music and a piano in our home all the time.
Q2. When it came to getting trained in music, where you studied or got tutored? Tell us about your routine at that time.
I studied piano from age 7, then moved to guitar and flute in secondary school. I took many music classes and was in several bands performing throughout high school, then started my own kind of music when I was about 18. And then spent many years refining it! I also took many music courses in college.
Q3. How has Celtic music endeared itself to you?
I always enjoyed Jethro Tull and Fairport Convention for blending rock and folk styles. When I discovered the Chieftains, it all became clear to me. I realized I could successfully blend the kinds of music I liked into a cohesive and exciting sound. And then I also learned to play the pennywhistle! Emotionally, Celtic music speaks to me as if from long ago. It has a heartfelt, wistful quality that I relate to very much.
Q4. Talking about your own abilities how satisfying is it to play different instruments, compose music and create scores that millions of people enjoy?
I enjoy being able to play many different instruments, as it gives me a chance to experiment with sounds on my own. I can sort of 'test run' different musical combinations to find the best path for the piece I'm working on. Also, emotionally, I get different musical experiences from each instrument. That always leads me down interesting roads. And recently, my music for the World of Warcraft has reached a whole new audience. For that music, I've used Celtic and orchestral ensembles.
Q5. You have recorded many albums and performed on various platforms—which one of these you enjoy?
I like making all kinds of music, from the Celtic-inspired, to the epic/world/cinematic sound I make, to chillout and ambient and native-inspired music. It really is all painting with sound for me. I do like exploring a singular direction on each release. In fact, I will have a new album, 'Ambient World,' out later this year on Domo records, which features my guitar with electronica sounds, things I've never done before. I also love performing concerts. It gives me a chance to connect with people who enjoy my music, and I get a sense of who my audience is. And sometimes when performing live, incredible things happen, the spontaneity, playing with other musicians, it's more free than studio composing and recording.
Q6. Given that you are a technology enthusiast, how do you feel it brings lots of variations in music?
Technology has simply made it easier to realize the sound combinations that are in my head. It also lets me experiment with sound a lot, with lots of variations, as the computer has many sounds to choose from. The only drawback, is that it takes a while to learn it all, and master it! But it is also extremely rewarding, as I can achieve a very 'finished' sound all by myself.
Q7. When it comes to various forms of music, which one of them you like to listen to, though you might not be creating that music?
I go to classical music concerts a lot, I enjoy the full orchestra. I also enjoy world music a lot, too. I even wrote a trance/dance song recently, and I also enjoy that style, though I probably won't do a whole album of that…
Q8. As a musician, how important is to experiment when it comes to creating music?
For me, every day is about experimenting. I can't wait to wake up and get into my studio and see what I will discover. It's the creative impulse that is so strong with me. It is an open canvas, so I experiment until I find a thread, then I pursue it. It's fun to try blending different sounds styles of music that I enjoy, to create something new.
Q9. Tell us how you go along composing a song—what mood you want for it, what environment you choose, and everything else?
Many times I will have an idea before I start. A subject, an emotion, a concept, whatever. Then I go about trying to illustrate that idea. If I don't have a specific idea, many times I start with a drum, or look for sounds in my library I haven't used before.
Q10. Some of your compositions with Diane are really fantastic. Talking about collaborating with other artists, how do you feel it increases your own repertoire?
I think the right collaboration can yield wonderful results. Each person brings their own experience to the project. Very often, the music produced in this way is more powerful than each of the parts would have been. It adds a lot to my own solo body of work, and with egos and respect in their proper place, it can be a fun way to make music. It's very tricky, however, to find someone to create successfully with.
Q10. Apart from music, what else keeps you occupied?
I recently moved near the beach in Southern California, so I spend a lot of time there. The ocean is very cleansing and inspirational. I also enjoy concerts and movies and camping.
Q11. Do you think that something else can replace music in your life?
Music is a large part of my life-force, it is a constant companion. It is an extension of my dreams and desires. I don't think anything could ever replace it, we are tied for life!
Q12. If it were not music, what would you have been doing?
In high school, I had to choose between going into pro baseball, or music. I think I made the right decision, in retrospect, it was actually the only way it could have turned out.
Q13. Would you like to tell us about your instruments and other tools!
I recently got a Xylosynth, like an electronic marimba, which allows me to play any sound in my computer using mallets. I still enjoy the piano and guitar, but I also play a lot of drums and other percussion instruments. I use the ProTools program to record and mix my music, and it helps me a lot with my 'painting.'
Q14. Share a message with our readers, music enthusiasts and budding artists.
Lately, I have been working with a symphony orchestra making music for the World of Warcraft video game. It is an amazing experience. It is as if all those years studying the Nutcracker and The Planets have paid off! I now have yet another direction to channel my creativity. And it's such a powerful experience when you have a room filled with expert musicians playing your music.
I have also started a group, Mandala. We will have a release at the beginning of next year. It is sort of a trance, tribal, light show experience. Quite fun!
As far as budding artists go, I would counsel to concentrate on music you are passionate about. It can be a difficult road, but if you focus on your passion, it will be a shorter one..! And treat people and teachers with respect.