Interview with Antonio Simone–a Pianist

Antonio Simone is an Italian pianist and composer who was born in Capua, a city which is about 25 miles north of Naples, and began his musical studies at nine years of age. At the end of his piano training, during which he had also participated in various music competitions, attaining excellent results, and at 19 years of age he got his "Diploma in Piano" from the Music Conservatory with the highest possible marks.
With regard to Composition he is basically self-taught and wrote as well as performed some of his first works whilst in his teens. At the present time, he is dedicating himself to the composition of music for different instruments and in different styles. In recent years, he has been responsible (as a music therapist) for music therapy training and practice, encountering and composing "New Age" music.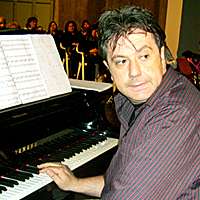 His most recent musical compositions for piano result in a fusion of classical and New Age styles. Over the past few weeks his debut album "Life Colours" for solo piano has been released. This album contains original solo piano music, composed, arranged and performed by Antonio Simone in a Classical-New Age style.
We had an email interview with Antonio:
Q1. Going back to your childhood, tell us how you grew up liking music?
My first memories relating to music go back to my first years at school. When I was about 8 years old, I asked to sing a song at the end of the school recital. Initially, I was told that it wasn't possible because there was nobody available to accompany me on a musical instrument. However, I wasn't at all discouraged and asked to sing anyway without musical accompaniment. At that moment, my desire to go on stage and sing was greater than my shyness… So I sang an Italian version of a theme song from my favourite TV programme of that period called "Fury". It was an American tv series which was broadcast in Italy in the late seventies and which told the story of a boy and his heroic horse. I got my first round of applause, and after that event my parents decided that I should have music lessons.
Q2. Talking about picking up piano as your favorite instruments, what was the main point that you picked them?
I remember that we already had a piano in our house when my parents started to ask for information on available music teachers in our area. In the meantime I had fun playing the piano from time to time. I liked the possibility of being able to produce many different sounds. I also liked inventing stories in which characters had different voices that I gave them by playing in various ways on the piano keyboard. Naturally, the bad characters were represented by low pitch sounds… And when I had to represent a specific or magical scene, I would use the sustain pedal. After some time I started my musical training as a piano student…
Q3. Tell us something about your training and tutelage in music and how was the experience back then.
At nine years of age, I began taking private piano lessons. I still remember the gentleness and kindness of my first teacher. Her qualities and abilities helped me face this new experience of studying music in a positive way. I don't want to put myself on a pedestal, but I have to admit that I succeeded pretty well and my progress was evident with the passing of time. The fact that I had learned to play significant pieces of classical music during my first few years of study allowed me to take part in different music contests in which I always achieved excellent results. Subsequently I continued under the guidance of a teacher from the Conservatory who took care of my training until I achieved my diploma at the age of 19 and with the highest possible marks.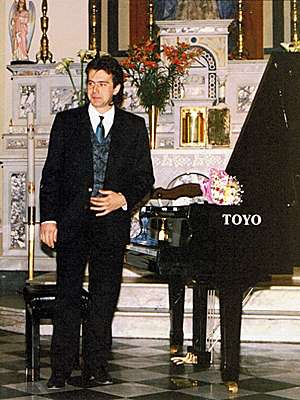 Q4. Tell us how Piano offers you more range and quality than other similar instruments ranging from keyboards, synthesizers, harpsichord, etc.?
For me, the piano is always the instrument I choose first, given my classical training. Sound production, touch control, expressiveness, for example, are fundamental parameters that have to be considered for whomever has had a privileged rapport with the instrument. I think that, through our hands, the piano becomes an extension of ourselves. But I have to say that my rapport with the applied technology to music has been positive, anyway. For example, it helps me when composing. When you play on a keyboard and, at the same time transmit what you are playing to a computer, it's a good thing which really helps to simplify the editing of a music score. Or whenever you write music for more than one instrument, it helps to listen to it via the computer, even if the sound quality is not excellent, for this allows you to have an overall idea of the final result and helps you to make adjustments to things which may not produce the harmonic outcome you want.
Q5. Tell us about your collaborations with other musicians? Do you feel it has influenced your music at personal level? Do you like to collaborate with musicians from different genres?
I have co-operated with other musicians mainly whilst preparing for or during actual concert performances. I've had the opportunity of playing in musical groups, mainly trios and duets, with violinists, flutists, clarinet players, other pianists and, almost always with a repertory of classical music. These experiences, on a personal level, have helped me to be able to refine my knowledge of the characteristics of different instruments and to compare them with those of the piano, allowing me to have a greater awareness and understanding of these instruments when composing music for them. In fact, I've written, amongst other things, a quartet for strings, trios, compositions for duet instrumentals and for instruments other than the piano. I would welcome the occasion to collaborate with musicians of different genres, assuming we had common goals and aspirations.
Q6. How different and difficult is it to perform live as compared to recording in a studio?
Being far more used to live performances, in comparison I haven't had much experience of studio recordings. On those occasions when I have undertaken recordings in a studio I have been able to reflect on the differences between the studio sessions and live public performances. Certainly, in the two situations there are different levels of emotion and tension. During a live performance you are able to perceive everything the audience communicates by its presence, with a certain vibrant energy being tangible; everything becomes part of a unique sound environment in which the fulcrum is represented by the musical production at the piano. Certainly emotional control is much more difficult in this kind of situation, but, at the same time, the feelings are, in my opinion, more beautiful and gratifying. Often I've imagined a parallel which you can draw between the performance of live music and theatrical art compared to studio recordings and the cinema. In the first case there's a sense of not being able to replicate or reproduce what is taking place; the event taking place will remain unique, with its own energy, its own place in time, its imperfections and it is all these which paradoxically amplify its authenticity and beauty. I agree with those who say that a beautiful thing is never perfect. In the second case there's the sense of being able to reproduce; everything (or almost everything) can be edited again: a scene, a passage, an entire performance, if it doesn't come out as you wanted, can all be re-done, corrected and perfected. Certainly, this isn't the rule and it isn't always like this, but the possibility exists. In this last situation, from an emotional point of view, there's certainly less tension and more serenity. For these reasons I continue to prefer public performances, but at the same time, I'm trying to bring to my recordings the same feeling of authenticity or a sense of being real which you would associate with a live performance.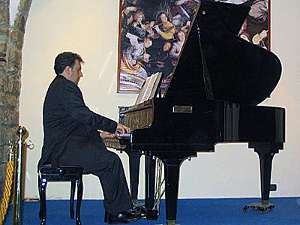 Q7. Tell us about your instruments that you choose while playing and other gears that you use to support them.
For piano practice, I use an upright Kawai piano and a Yamaha grand piano; in addition I own two digital pianos. During my piano concerts, I generally use grand pianos made available by the organizing parties, taking some time before the concert to familiarize myself with the instrument and check the tuning. On other occasions, when not undertaking solo piano concerts and whilst performing with other musicians, I can also use the digital piano. During a recent musical project in 2009 called "Music for Wellness" I held a series of concerts in duo formation (two digital pianos) with a virtual orchestra, using sounds of nature as a background and with the projection of videos and images on a big screen. The new musical project for 2010, in a classical-new age style, is based on the live performance of pieces contained in my album "Life Colours", (which has been recently released) using a grand piano, sounds of nature in the background (sea, rain, etc.) and projections on a big screen.
Q8. How satisfying has been the journey as a musician? How do you feel music helps in balancing the mind and being concentrated about the task at hand?
Personally, I agree with those who say that happiness lies in the journey and not in the final destination. I believe that, in every musician's career, the journey is never a linear one, but is rather articulate and complicated. Sometimes you don't get to realize all your plans, goals and dreams that you hoped for and wanted to do. With regard to myself, up to this point, I can say that I'm quite satisfied, thinking, at the same time, that "the best is yet to come". Other than teaching and concert activities, in the last decade I've also been involved in a professional capacity with Music Therapy and can affirm that maybe no greater power exists in promoting a condition of psycho-physical well-being than that which exists inside the music.
Q9. Do you feel you could have picked up something else if it was not music?
If I hadn't become a musician… well, I don't know what I would have chosen. I think that probably I would have been involved in some other artistic endeavour. Or maybe, since I spent my childhood in a small country village amongst nature and animals, I would have chosen some kind of job related to these things.
Q10. What you would like to convey to our readers?
In my opinion music represents one of the greatest instruments of peace. Music, in every one of its forms and kinds, unites people from every race and religion. Music's universal language is able to speak clearly to our hearts, creating one big and unique Country in which every musician is directly involved because he/she is a part of the musical art. But also a part of this big and unique Country are those who aren't musicians, but music lovers who are emotionally involved in musical art. Wherever you are, don't let your lives be lived without music!