Interview with Paul Adams–a soulful flutist and multi-instrumentalist

Paul Adams is a multi-instrumentalist from America who compose music in the area of Meditation/Healing, Jazz, Ambient, New Age, and World fusion. Paul believes that music is a powerful art form has the power to transform. He also performs and lectures on topics of the creative arts.
Right from the trumpet, guitars, Paul experiments with flutes. His music has been liked by listeners who are looking to try something new in various genres.
We  had an email interview with Paul.
Q1. Going back to your childhood, tell us how you grew up liking music?
Most children have an affinity for music. I was drawn to the Jazz of Louis Armstrong and Blues of Besse Smith. Later came the Beatles, Bob Dylan, etc etc. My dad played the Trumpet and this was my first instrument. Mother was a very gifted artist. You can see some of her work on my website www.pauladams.org.
Music is so vast and important. Much of what is popular today seems somewhat empty to me, but I am constantly amazed at the level of musicianship I find on the internet
Q2. Talking about picking up flutes and other instrument as a choice, what was the main point that you picked them?
As I said, trumpet was my first instrument. I added guitar eventually. In college I had to learn a new instrument and perform for a Folk Music Class. I then discovered the 5 string Banjo. Ethnomusicology was my major and I've always been attracted to exotic instruments. I then went on a 20 year odysy building instruments such as guitars, Banjo's, Dulcimers, Psaltries. I discovered the Native American Flute a number of years ago and love it's ease of playing, beautiful tone, and versatility of performance. Through advanced fingering, you can integrate all the exotic and traditional scales. So, it can be utilized traditionally, mystically, or even as a vehicle for blues, jazz and Celtic.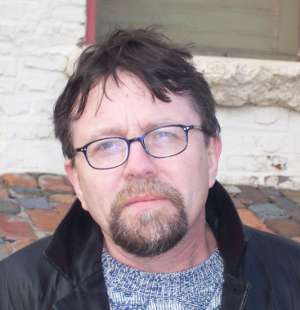 Q3. Tell us something about your training and tutelage in music and how was the experience back then.
My training was non traditional as my brain just doesn't work well within the paradigm of the scholastic framework. I just stumble along and try my best to learn. There is no replacement for practice and performance and learning from error.
Q4. How does it feel to be able to create music and musical instruments?
It is wonderful. I grew up believing I had no gift of intellect and talent. My self image was quite poor. I now feel blessed to be able to do something – to create – to connect and to express myself. It's been a great gift and I am so deeply in debt to God.
Q5. Do you feel you have a special ear for the sounds of various instruments that you make because you are a musician also? What is the uniqueness of musical instruments made by you?
I would have to say that the uniqueness of how and what I play doesn't come from being an instrument maker. It comes from the injury I suffered to my fretting hand years ago. I lost my small finger and the ends of my middle and ring finger. The ends of these two fingers were then constructed from a skin graft from my leg. There is no joint there and no bone at the end of these fingers.
Consequently, I cannot accomplish certain things. This meant that I had to adapt, and learn to develope an approach and style perhaps slightly more unique than other musicians. Ones limitation has a way of pushing you beyond what you thought was your
finite horizon.
Of course, having years of experience playing, studying, and performing does help in choosing how to build an instrument. But, I am more focused on composing than building these days.
Q6. You have also been into poetry. Tell us something about that.
I am also "unschooled". It bursts forth like a starburst in a stream of thought, feeling and rhythm. My poetry is much like Jazz, and I really like it. But, I can't make any pretense of having the chops of the heavyweights like my cousin Tony Tole, Billy Collins, and others. Those cats are in a different league. Still, I am very proud of my work. It came as a gift – to downplay it would be rude to "The Giver."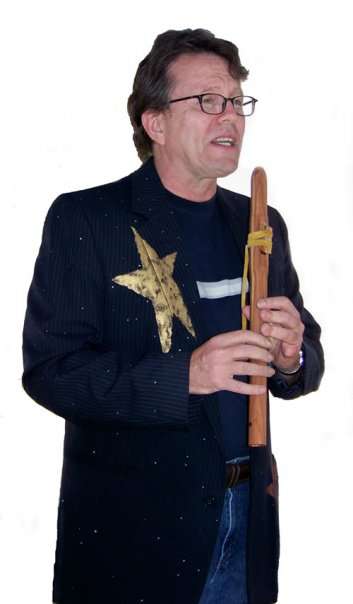 Q7. Tell us how you like collaborating with other musicians for composing various genres of music. Do you feel it brings more creativity in your music?
What can occur in music today is revolutionary. Not many are getting it, but it's revolutionary. We can now compose and record free from corporate constraint. We no longer need the corporate sponsorship to paint our pictures. Technology has allowed us to own our own studios. Like a sculptor or painter, the choice of creation is ours. Not a business man who's sole concern is "product." Of course selling isn't as easy, BUT, for the first time we have the freedom to create. This freedom allows us to work in multiple genres, integrate other styles, and do just about anything.
Dave and I completed one album while he was touring up the coast in the Ray Charles bus. We just sent files back and forth from his laptop, to my computer. I hope to work with some of the great musicians I've met on the net like Vladiswar Nadashana, Elizabeth Geyer, and on and on.
This is a great question as it enquires about this new freedom in composing. Let's just hope that our integration of genres and styles
somehow makes it's way into the socioeconomic and cultural realm as well. We are becoming a global society, and this isn't an easy task. Let's hope music can assist us in getting along, understanding, and appreciating as well as embracing our differences.
Q8. You have been working on the healing and transformational aspect of music. Tell us how has been your experience with it and how effective it  has been on your audience.
My work in using music therapeutically has had it's roots in subjective intuition. I don't scientifically search for specific tones or frequencies that vibrate with Chakra points. I go completely by "feel". Because I have worked extensively with those with mental illnesses and abuse, they have taught me everything.
We all know how music can affect exercise, sleep, nostalgia, dance, sports, etc. I'm very interested in finding how specific musics can help individuals based on their illness and experiences. One example would be ambient music devoid of melody or structure. Some find it very soothing, safe, gentle, and calming. However, some who have had deep unresolved trauma find it leaves them too alone within themselves and their unresolved abuse. This of course is predicated on the fact that I am working with someone on an individual basis. For the music I release to the public the scope is much wider. BUT, the subjective feel is everything.
Q9. Do you feel your music is influenced by some form of genre of music or any musician in particular?
It's influenced by almost everybody and everything. I mean where would I be without Louis Armstrong, Dylan, The Beatles, Eno, progressive rock, Aaron Copeland, Pat Metheny, John Fahey, the ethnic music traditions, my friend David Hoffman. Boy, the list is sooooo vast. It's easier to say what I don't like, as there are just a few musical movements I find crass, boring, and uninteresting. But it's not constructive to go there. I really like ethnic music so much !!! And it's so exciting to utilize it. My study in Ethnomusicology obviously had a big influence as well. The sounds and smells of nature offers an impact as well.
Q10. How satisfying has been the journey as a musician? How do you feel music helps in balancing the mind and being concentrated about the task at hand?
It's been very exciting and an honor to participate. Everyone needs something to connect with and I'm just so happy and grateful to have music. If I didn't have music, I would love to be involved in film. I have another cousin who makes movies (Starman, Stand By Me, Mr Brooks etc) and I would love to do that as it is also a very powerful medium.
We shouldn't think that having our dreams come true is perfect. There are many pot holes in a musicians career. But, how wonderful it is do tickle sound and toss to the ether.
And yes, music can balance the mind – and sometimes unbalance the mind! LOL !!! Isn't it amazing how powerful it is (Along with film.)? I think we all need to add something good to the world. I hope I'm doing that.
Q11. What you would like to convey to our readers?
First of all thanks for listening. Secondly, tune in to the music from alternative sources like the internet and satellite radio. Support
musicians who are striving to be interesting and honest. There is so much more than what we hear on commercial radio, the television, the Grammy's, and the cover of aol.com. Lastly, take it easy on yourself. Be happy.
Learn how to be better. Love.