CD review of Bansuri Dreams by John Wubbenhorst

Album: Bansuri Dreams
Artist: John Wubbenhorst
Total Time: 58:11
Bansuri Dreams is a combination of different styles including, new age, world, and meditative/healing.
The dream of the bansuri starts with "Happy Journey"–it is piece that sets the tone of the whole album. Beautifully set with ghatam beats and percussions, the dual flute sounds create a very festive mood for the listener.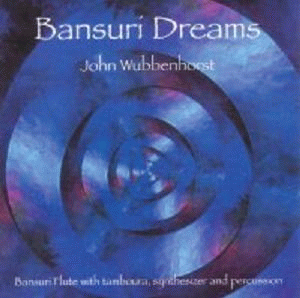 As if the flute has touched the heart, after a celebrating journey, the music moves into touching sounds. It knocks at the door of the heart of the listener and prods it for "Heartrise". The piece does not take support from beats…it just flows.
"Midnight Meditation", as clear from the name itself, starts from a very deep note. Strong support of tanpura imparts a well-managed and typical settings of nighttime, when a feeble sound could be heard with much clarity. I particularly noticed how John distinctively weaved different patterns of flute's sounds by altering the technique of breath within the same note–a property of Pt. Hariprasad Chaurasia's flute. A magical piece, indeed!
Bengali and bansuri seem to have some uncanny rapport with each other. "Bengali Folk Song" is a beautiful presentation of this relationship. With various types of cymbals, ghatam and beats, the song moves with rhythmic movements.
The mood suddenly changes from leisure and celebration to "Initiation". The tone of this piece is deep–the message itself is deep. There is something very significant that needs to be conveyed and understood. The listener is asked to concentrate and get initiated into a realm of deeper thought. This is rather a long piece. Once again, tanpura creates its magic with strong notes. In the second piece, you can clearly notice the influence of Pt. Hariprasad Chaurasia's technique–it is almost recognizable. Personally, I will say that John rendered this piece quite beautifully.
"Noon Mist" keeps the mood intact with deep sounds and soft cymbals in the background. The piece extends the bliss that the previous track created.
"Afternoon Prayer" starts in a lilting mood. A very composed and controlled movements of notes–the prayer seems to go deep and very choosy about the feelings that it want to convey to the Higher Self. I have seem in some videos how Pt. Hariprasad Chaurasia sways while weaving such magical music. John Wubbenhorst, amazingly, did complete justice to this piece! Wonderful, indeed!
No stopping of bansuri dreams. "Peace, Thy Will Be Done" is a reflecting peace where everything is laid before the Higher Self in surrender. It starts as if the flute has put in its best effort and now wants to curl into warm lap for rest. It craves for that acceptance that takes away the tiredness and renders it afresh. A fitting end to the album!
I have been listening to this album for many days now. Music, when created with sincerity, always brings the best of an artist. This album will be a stand-out for me among the many that I have. Heartiest thanks for John for creating such music and sharing it with me.
| | |
| --- | --- |
| Track Name | Time |
| Happy Journey | 04:57 |
| Heartrise | 06:42 |
| Midnight Meditation | 07:40 |
| Bengali Folk Song | 05:01 |
| Initiation | 12:35 |
| Noon Mist | 09:29 |
| Afternoon Prayer | 05:59 |
| Peace, Thy Will Be Done | 07:08 |