Interview with Anne Trenning: A delicious musician and an amazing human being

It's with absolute delight that I am bringing this feature on one of the most amazing beings I have the privilege to know, and a wonderful musician who can weave magic with her notes.
Anne Trenning's music covers multiple planes of your mental globe. It's almost meditative though it vibrates with energy and passion. I remember hearing her music around five years back, and piano didn't excite me that much at that time; however, it was all about to change because she brought so much depth and variety in the moods of her music. Since then, I have listened to her music over and over again playing her CDs in my car, in my laptop and even making my friends listen to it. I even started listening to some other amazing piano players.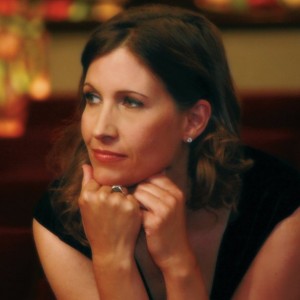 I remember writing a poem inspired by her songs, and I feel that you would also feel happy if you happen to listen to her music.
We present an email interview with Anne and try to know more about her as a person and a musician
Q1. Tell us how music found you.
As an internal compass, music has always played an important part of my growth and experience. Early on, when I began participating in my musical education, it was apparent that I had a strong affinity for melodic development and chordal structure. These influences, via exposure to four part harmony, choral anthems, American songbook and pop music, all played a significant role in my finding a unique voice in my later compositional years. Wonderful educators and diverse early repertoire prior to my years of classical studies helped formulate my skills as well. I was lucky to have parents who encouraged my pursuits and recognized the importance of repetition to develop my skill set. Truly, it is rare to find the younger child who "enjoys" the importance of practicing, so I credit the adults in my life for creating this environment for me. Now it is a joy to have time at the keyboard and practicing is high on the list when scheduling my daily calendar.
Q2. What's the most essential thing a musician should do to become an expert in the art?
Expertise is associated with the passage of time, whereas intuition is available from the outset. To create expertise I would follow a lifelong structure of pursuing your craft. Regardless of when you embark on the journey, it is the relationship of your time commitment that is one proven approach towards the evolution of expertise.
Q3. Do you feel satisfied with what you have achieved in your career as a musician?
I do. Even more importantly, I feel grateful. This process is one of tremendous joy for me, as is the evolution of my own musicality and personal journey. The very awareness that it spills over in a meaningful, emotional, and pleasingly aesthetic manner to others is a true blessing. It is such a joyful experience to be involved in this process and I am simply amazed and honored to have the endorsement of others as I venture outwards with my efforts.
Q4. What are the options available to a young musician to sustain his living?
Sustain is the operative word in your question and my first thought is there are many directions for a younger musician to endeavor in the music trade. Production, education, performance, and countless other avenues are available dependent on their skill set. Having said that, my experience is that the majority of musicians will work at different pursuits other than music while simultaneously exploring their musical ambitions. And sometimes, they may not be able to pursue their craft as passionately as they would desire at the moment simply because the priorities of daily life demand attention. Musicians are some of the hardest working multi-taskers I know. My advice is to anticipate working at a variety of different and often unforeseeable opportunities throughout the process of supporting your path as an artist.
Q5. How do you feel music can bring people of the world together?
Music and smiling possess a common denominator. They are the great equalizers and communicators. The power of their simplicity is universal, and the magnitude of their impact is seismic. This message, gifted by the individual proffering to the recipient accepting, has the magical circumstance to change a life, express an emotion, share a feeling, and create a symbiosis. Music is the melodic, metaphorical smile that joins us together at our hearts. Within, our humanity bursts forth with the majestic recognition of something exquisite and beautiful, pounding and forceful, triumphant and beyond quiet. It is simply impossible not to embrace this transcendent reaction in our neighbor who stands beside us. Music suffuses the world in beneficent grace.
Q6. Apart from music, what else do you like to do?
I love reading, baking, photography, spending time in nature, family and friends, and refurbishing anything in need of attention. I enjoy exploring history and circumstances that are new to me, and more travel is high my list of things to accomplish. The best day for me is one that is free of an agenda where spontaneity prevails!
Q7. Share a message with our audience.
Dear India: The magnitude of your beauty in all forms astounds me and leaves me speechless with wonder. One day I will find myself with the good fortune to visit your country in person, and I will be forever changed by your brilliance, charm and delightful sensibilities. I look forward with great anticipation to this day. Until then, my sincere gratitude for your listening ear, your musical astuteness, and your contribution to the wide world around. Thank you of the highest order to your kind and accomplished colleague Vivek Kumar, for sharing something about me, with you. Namaste.