Interview with Inni Singh–A Delhi-based businessman with a passion for photography and music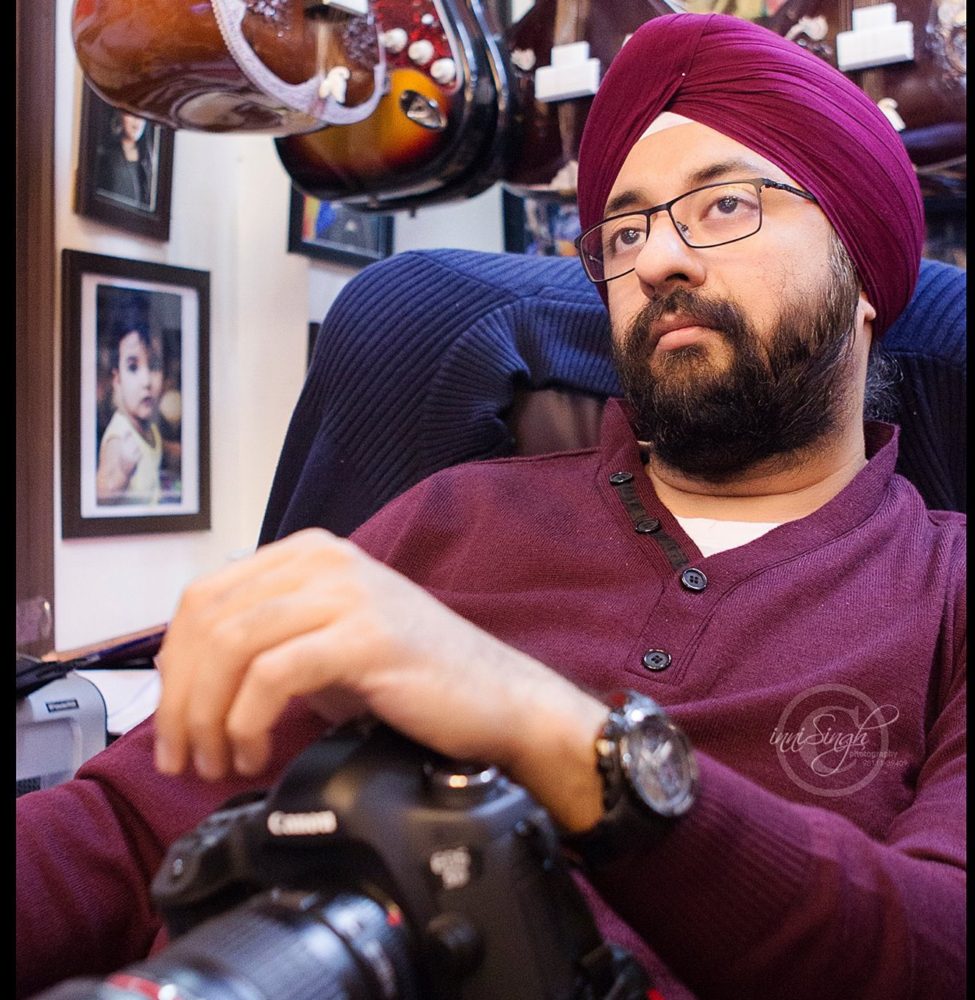 India is a land of diversity. It's complex too. A lot of people, who do not know India from inside, feel perplexed. I often term it as 'a world' rather than 'a country'. It offers variety of fields and options if a person wants to pursue, but sadly there are very few who choose to admire this myriad complexity. However, there are few sparks who try their hardest best to pursue multiple areas and combining them to bring the best out of each one of them.
In such a position, we have Inni Singh, who has very nicely combined his love of music, photography and business. He runs a musical instrument store in Delhi, himself plays Tabla and shoots musical and dance concerts with his professional camera. In my opinion, he has very aptly studded his passion for music and art into business, thus bridging the gap between interest and livelihood.
We bring to you an inside story about this multi-talented personality
Q1. How you got intrigued by photography when actually your main stream passion was (is) music?
Ans: I used to accompany my Tabla teacher, Ustad Rafiuddin Sabri to concerts in Delhi. He used to perform with artists and I used to photograph the musicians with my little point and shoot camera.
Gradually this interest started building up of taking pictures and I started investing in more expensive equipment.
Q2. When you actually thought of pursuing photography at a professional level?
I started shooting professionally after Parkaya. A three day dance event organised by Sarvam Foundation headed by Bharatanatyam dancer Nehha Bhatnagar. When I took the dance shots at this event, they were liked by a lot of dancers and musicians. This started bringing me work and i started charging nominal fee for my work.
Q3. Why dance photography or concert photography to be more precisely?
It gives me much more satisfaction when i shoot live performances where there is music and dance and the ambience it creates. I feel i concentrate better when there is music around.  Indian Classical Dances and Music take you to a different level. I don't understand the lyrics of some of these but enjoy the vibrancy and music that accompanies the performances.
Q4. How do you think you are able to give your time to your musical store and also attending concerts?
Music concerts are mostly in the evenings therefore I work at my store in the mornings till early evenings and spend time at the Auditoriums in the evenings. Its hectic but I feel very relaxed when I am in an auditorium shooting a performance after a day of work at the store.
Q5. What do you think is the potential of professional photography in India?
Photography is very different now than what it was about 20 years ago. Weddings, Fashion, Products and some other forms are financially beneficial provided your work is of high quality. Arts photography such as shooting dances and music in India does not pay much. It's more to feed your soul than your pocket. 🙂
Q6. Are you thinking of opening an online store for your musical instruments' business?
I do have a website where we have been selling our instruments for years now. It's www.indianmusicalinstruments.com
Most of our business comes from here. We get orders, get the payments in the bank and ship using various modes depending on the customer requirement.
Q7. What's your dream for future?
I never plan for the future. Whatever I do now is what I love. Hopefully, I will keep on visiting concerts and photograph better pictures than what I do today. How about a dream of being a legend before my time is done? 😛