CD Review of The Sunflower Waltz by Anne Trenning
Artist's Name: Anne Trenning
Album Name: The Sunflower Waltz
Total Time: 52:33
I have been fortunate to have a close friendship with Anne though physically we live oceans apart. (!)
But then, geography become tiny when you draw the distant locations on the canvas of your heart. Just wind it off and you can locate the people quickly, and find them always near to you.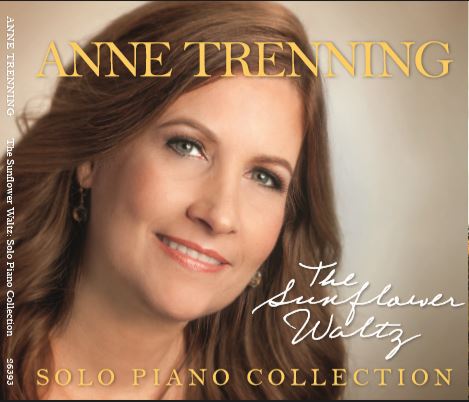 I have enjoyed her music times and again–in fact, she was the one who introduced someone like me to solo piano. I am more tuned to Indian classical music where rhythm becomes kind of an integral part of the long presentation, and listening to solo piano pieces had never been my inclination.
Anne changed that.
I remember listening to her earlier albums and enjoying the literal (for the lack of any parallel word that justifies the musical expression I intend to convey) beauty latent in them. I used to travel to my home-town from Delhi (capital of India) in a state-run bus, and plugged to her songs.
Her new album 'The Sunflower Waltz' is a definite addition to the amazing collection of music that I have from some of my amazing friends.
Right with its first song 'Max's Birthday', Anne sets a definite tone to the album.
To bring some of my experience in listening to Indian classical song, I would say the title song carries some of the elements of a carefully designed rendering of a Raga. It matches so much with Indian style in touching the extremities of the limits that are posed on one particular theme.
The 3rd song is clearly the winner–quite obviously, it is the most touching song of this album and I can see Anne herself enjoying it a lot. It carries the name of her daughter to whom this album is dedicated. Doubtlessly, it is the most vibrant song.
Another beautiful thing about Anne's collection is the variation she brings to her music. Apart from the regular expressions that she would give to the names and the content of her songs, the collection would always be interspersed with some intriguing and sometimes esoteric expressions–I just love this side of her creativity. It allows you to meditate while listening to her songs. Just let her music play and concentrate on the divine. 'Letting Go', 'Sing to the Lord', 'Where Rivers Run', and 'A Prayer for the World' are some of the songs of this category.
I am sure if you land on this collection, you will emerge a richer person just because a musical expression that comes from the heart of an artists is an expression of the divine–it can elevate you to an altogether different plane.
You levitate to, gravitate towards, and meditate on something subtle.
Keep listening; keep enjoying!
| | |
| --- | --- |
| Track Name | Duration |
| Max's Birthday | 02:58 |
| The Sunflower Waltz | 02:37 |
| Claire of my Heart | 03:11 |
| Just Fly | 02:33 |
| Fade to Blue | 03:34 |
| Letting Go | 03:05 |
| Cowgirl Daydream | 02:46 |
| In the Gloaming Light | 03:45 |
| Sing to the Lord | 03:26 |
| Backyard Dreamer | 03:04 |
| Where Rivers Run | 05:01 |
| Days Gone By | 03:11 |
| Ben's Song | 02:47 |
| How Fair My Love | 02:53 |
| The Welcome Song | 03:39 |
| A Prayer for the World | 04:03 |