Interview with Arun Shenoy about his new album and career

When I was studying mechanical engineering, I used to sing a lot of Bollywood songs of bygone era. I had a good voice but didn't get the chance to learn music properly. My friends used to appreciate me singing, and often remark that I had taken up the wrong stream and should have taken arts instead of pursuing science.
They were right in a way that studying arts would have given me extra push but I always wondered could somebody do both–not relinquish the interest in maths and science and still be artistic?
Well, my question got a fitting reply when I came across Arun Shenoy's profile–a post graduate in computer science, tackling and juggling mathematical terms and still finding time to create music.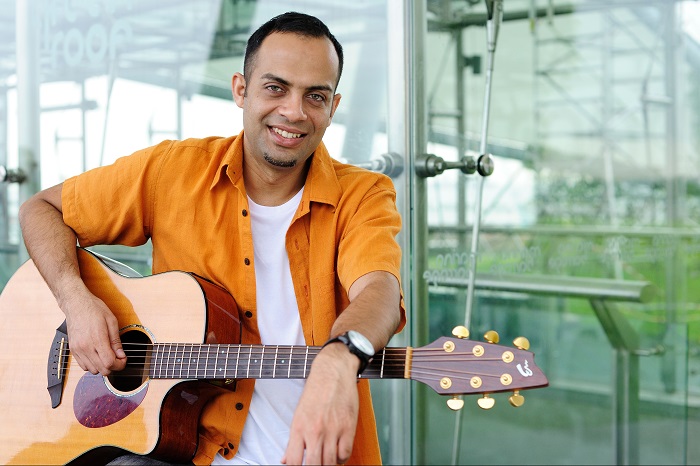 There is no harm or handicap if you want to pursue science, because it does not kill the art that is within you. You give wings to your imagination and creativity, and you need nothing else. Arun has given so much hope to people who pursue science but still have that artistic streak burning.
He has just launched his new album. Let's hear more from him about his album and his journey as a musician:
Q1. Tell us about your new album–how you conceived the idea?
I had been listening to a lot of Soul and Funk music in recent times. Having been inspired by the strong emphasis on the groove and the infectious mood of the music, I decided to have a go at creating some music in this style, but with my own spin on this by incorporating flavours of jazz, and fusion with rock, the latter being a big part of my own musical journey. Then of course the quirk of having the Indian world flute, the Bansuri, performed by Ravichandra Kulur having a prominent role in the music. Hence the stylistic term "Bansuri Funk".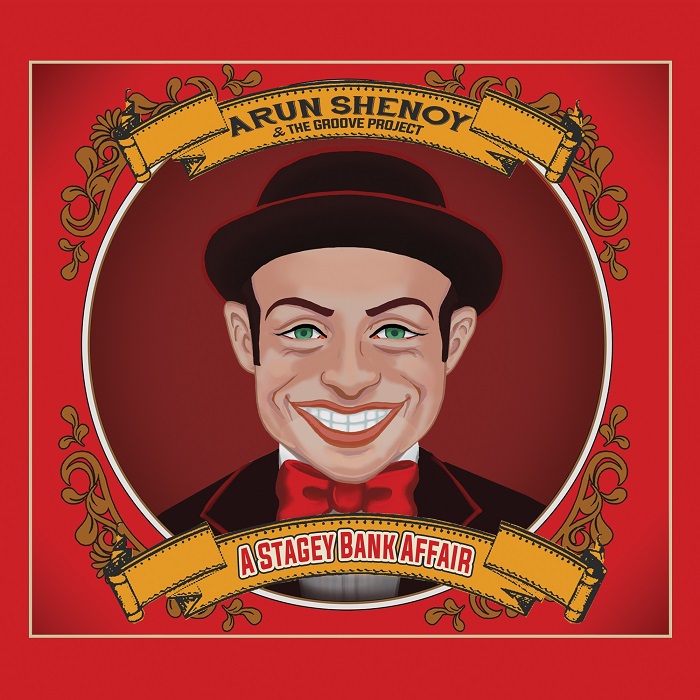 The art director, Roshni Mohapatra, who is also my wife, wanted the album to be a concept one – themed around the fading art of vintage carnival poster illustrations. So that is how the music and the theme kind of evolved into an audio-visual experience of high energy funk music, combined with lots of vivid illustrations, typography, packaging and of course animation.
A lot of the songs on the album started out as jams between Ravi and me where I would send across a songwriting scratch of drums and bass to him, or maybe some guitar harmonies and melody ideas and he would build on that. And then I kept working on it by adding new layers and sounds to finally achieve what we hear today on the final release.
Q2. You seem to work quite hard on themes and names of your songs/albums, why?
Every song has a story to tell. The (visual) theme and the track titles are designed to better express the artist's perception of the music, in a way that is self-explanatory but yet leaves a lot of room for the listener to form his/ her own impression on the music and hopefully make a connection in some form. I believe this connection is what makes a song memorable where people can relate to it based on their own personal experiences.
Q3. You took four years to follow up your last album–what was cooking?
The year after Rumbadoodle in 2012, I released a single titled "Bliss" which was planned to be the introduction for my planned full length Indian World Fusion album. But I was still not sure of the production direction I wanted to take on that, so decided to leave it on the backburner for a while. I also released a series of other singles With Matthew Shell, Sridhar and my trio Soul'd, and only in 2015 decided to work on a full length new album in the style of Bansuri Funk, a sound that we came up with Soul'd.
Q4. How cool is to study science and follow something that is turly artistic?
Very cool. I have a post graduate degree in Computer Science and a consulting job in the Investment Banking world. This part of my life is very different and very disconnected from the artistic side of my life which is another full time undertaking in itself. I enjoy math, science and finance. So the banking side of things takes care of that, and of course my passion for music is taken care of by my career in the music business. It is of course stressful and very time consuming, but I actually quite enjoy it this way.
Q5. You love to experiment with your music. Is it fulfilling or helps you in some other way?
Yes. I always believe in pushing the boundaries of my own imagination to try and create the best possible music I can, and to also try and push the style of music forward. I believe that at the end of the day, it is as important for the musical genre itself to keep evolving to stay current and fresh, as much as it is for an artist to stay relevant.
Q6. What are the plans for near future?
A tremendous amount of time, effort and resources have gone into the creation of this album, and now I just want to take a break and hope the album is received well in the weeks and months to come. There are discussions afoot about taking the music live. So we are working on that aspect too.
Q7. Any message for our audience?
The full album is available for free streaming on my website at arunshenoy.com, where you can also check out all of the artwork in digital format and the 2 videos too. If you do like it, please do consider purchasing the digital download, or even better – the physical CD. I also do appreciate any help to spread the word. Thank you!