Interview with John Wubbenhorst–an oriental flutist from occidental planes

John has the unique distinction of being a fluent virtuoso on both the Bansuri (bamboo flute) and Western flute. He is truly a World musician having played and studied Western classical and jazz as well as Eastern music in Europe and Asia. Today he performs in a variety of contexts and has played with many renowned musicians including Paul Horn, Victor Wooten, Hariprasad Chaurasia, Howard Levy, Paul McCandless, Jack DeJohnette and many others. He has performed at Universities and Festivals worldwide including The Smithsonian Institute, the German Embassy and the Kennedy Center in Washington D.C., Rotterdam Conservatory in Holland; Naitauba, Fiji; Calcutta and Madras in India; Berlin, Germany; California State University and the Universities of Michigan, Nebraska and Kansas.
Flutist – Composer – Visionary – Workshop Leader – Instructor
John began his musical training in Norwalk Connecticut where he grew up. Beginning as a vocalist, John studied guitar and piano before establishing western flute as his main instrument by the time he was 14. John studied classical western flute with Kim Haley from Juilliard school of music and composition from Darius Brubeck.
At 15 John's interest in jazz led him to study at Berklee college of music in Boston Massachusetts for a summer session. By 16 John enrolled as a full time student a Maharishi International University (MIU) where John continued to study flute and composition. Also at that time John studied western classical flute techniques with Roger Mather, professor at the University of Iowa. While a student at MIU John led several groups including "Prakriti" and the "Welcome" band who played with Paul Horn during a concert in 1978.
During the 1980's John moved to Washington DC where he began to study South Indian vocal music with Raju Soundararajan and Usha Char while he continued to play jazz and world music. In 1988 John began studies on the Bansuri (bamboo flute) with Debu Banerjee and North Indian music with Debu Chaudhuri. In 1990 John furthered his study on the Bansuri with Vijay Rhagav Rao. In 1992 John traveled to India for more studies of Indian music and it was there that he met Hariprasad Chaurasia. John did intensive studies with Hariprasad in India over a two year period and in 1995 enrolled in the Rotterdam world music program for North Indian music led by Hariprasad Chaurasia.
Simultaneously John continued a musical life in Washington DC while continuing North Indian vocal training with A K Das Gupta. In 1997 John released the CD "Facing East" which is a collection of original compositions that has gained much acclaim for it's unique east/west blend. Many tours with Facing East have followed including performances with Jack DeJohnette, Victor Wooten, Paul McCandless, Howard Levy, Subhash Chandran, Ganesh Kumar,Bhajan Sopori and others. A highly acclaimed tour of India took place in January/February of 2000 and in December 2000 the CD "Bansuri Dreams" was released. Today John continues to play all over the world and has many new projects taking place. His last two recordings "facing Beloved" and "Sacred Offering" were released in 2003 and 2004.
John's Story in his words ….
I've always felt that music is a doorway to the Divine or a way for us to get out of our normal consciousness and into greater truth, light and love. I remember as a child being awestruck in church at the great power and Divinity of music. I felt that the people up there talking didn't really radiate the truth but the music was saying it !! Fortunately by the time I was 14 years old I was deeply touched by many of the greats in Western classical music (especially Bach, Beethoven, Mozart and Debussy) and was involved as a jazz player and inspired by Cotrane , Miles, Weather Report, Keith Jarrett, Chick Corea, John McLaughlin, Oregon,Paul Horn and others. Around that time I was also blown away at the power and spiritual depth of Indian music. My high school library had one Indian music record "Ravi Shankar Live at Monterey Pop festival" I must have listened to that record hundreds of times. Simultaneous to these musical discoveries was a spiritual crisis I felt at 13 years old, that everyone is crazy and people are just controlled by ego patterns. I did think that someone must know what is going on and has gone beyond these patterns. I came across the book "Autobiography of a Yogi" by Parmahansa Yogananda and was inspired by the ancient teachings of India. I took up Transcendental Meditation and met Maharishi Mahash Yogi and decided to attend Maharishi International University. All the time I was playing music of all types and had now evolved into western flute as my main instrument.
Around 18 years old I had the idea of learning Bansuri (the traditional bamboo flute used in Indian music) but was unable to find a teacher, so instead I studied vocal music with some South Indian teachers. By the time I was 30 I was able to come across some very good Bansuri teachers and by 32 decided I should just go to India to fully learn the instrument. There I met Hariprasad Chaurasia and began studies with him and really felt I was finding the voice I was looking for. I also took the time to compose music I was hearing which became my first CD "Facing East".
During trips to India I delved deeper into my spiritual search and visited many ashrams and gurus. I was most impressed by the teachings and transmission of Ramana Maharshi a sage in southern India who passed away in the 1950s. Recently I've been blessed to come to into the influence of World teacher Avatar Adi Da Samraj and feel his wisdom deeply enliven the core of my being to the truth that always was and is. Stay tuned for the unfolding of it all and enjoy this website, hope it leads you to some bliss, truth and light.
All blessings…….John
______________________________________________________________________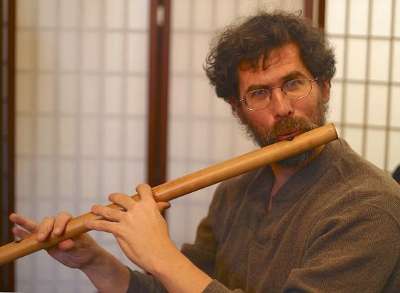 We had an email interview with John.
Q1. Tell us something about your early life. How and where you grew up and how you got inclined towards music?
I grew up in Connecticut, just outside New York City. My mother played guitar and sang and I grew up taking piano lessons. Music really got exciting for me when I realized I could improvise! I started out mainly playing blues on harmonica and singing in some rock/pop groups. Because I was standing in the groups singing and playing harmonica, it made sense to play the flute. Of course Ian Anderson with Jethro Tull was doing that, so I did too.
Around the age of 13 I really got into a lot of different music. I started getting into jazz, western classical and Indian music all at once. I would go to a Stravinsky concert, play some J.S. Bach, listen to carnatic violin and play some Charlie Parker bebop. It was nice to be close to New York City, because there was world class music of all kinds to listen to. It was at this time I was really blown away by classical Indian music. I used to listen to Ravi Shankar "Live at Monterey Pop" and carnatic music of T.Viswanathan (flute) and was deeply moved. I was also deeply into jazz flute, listening to Chick Corea, Coltrane, Weather Report, John McLaughlin, Keith Jarrett, Oregon and others…Many people have asked me how I got into Indian music and I can only say that I loved it right away. Also many of my favorite jazz influences were into Indian music-John McLaughlin, Oregon, Coltrane, etc….I used to copy the best I could on western flute at that time. After college, I continued with more studies and around the age of 30, I finally met someone who played bansuri and I took it up then.
Q2. How it anyhow came that you picked up Indian classical music?
Like most Americans, I heard the Beatles and their use of some Indian instruments. Then also alot of my favorite jazz players were into Indian music (Coltrane, John McLaughlin, Oregon). And I lived close to New York where I had access to see many Indian musician greats. I was just attracted to it and listened more and more.
Q3. What was the main reason you picked up North Indian Bamboo flute as your instrument?
Whereas, I love both North Indian and South Indian music, I love the alap approach in North Indian music and of course once I heard Hariprasad, I was really in love with the sound he gets.
Q4. When you first started taking lessons in it, did you find it difficult? I mean understanding the Indian raga system and other intricacies?
Yes, it is difficult, but when you love something that much, you just do whatever is necessary to learn. I was so thrilled just to play one note and I enjoy practising. I still feel like a beginner and will be studying the rest of this life and any others that might come.
Q5. Have you visited India and if yes, how has been the experience?
I was into Indian culture at a young age. When I was 14 I learned mantra meditation, was reading the Bhagavad Gita and learning about Ayurveda. So even though I didn't visit till later, I felt I was in India in many ways before. To me, Indian culture is just so inspiring with it's rich connection to the Divine and all of the great spiritual masters…very inspiring. Once I visited, this feeling has only deepened, visiting the site of Ramana Maharshi (Tiruvanamalai) and sites for Ramakrishna and Vivekananda…so many beautiful temples.
Q6. Which artists have you collaborated with across the world to compose music?
Whoever I play with, there is always an exchange of ideas and an influence. I especially have learned from the South Indian percussion genius, Subash Chandran, North Indian sarangi player Ramesh Mishra and of course my bansuri Guru Hariprasad Chaurasia.
Q7. Talking about flute, how do you feel it is different from other wind instruments?
Bansuri is a unique sound. It resonates with the heart so much. It is so earthy and mystical all at the same time, sensual and transcendental…an amazing sound. I also still play western flute, that has its own speciality, very bright and penetrating.
Q8. Do you feel the material of flute, being bamboo, has an effect in its sound and tonal quality?
Yes, the sound of the bamboo is very special, you don't need to understand how or why, it just is…the proof is the sound.
Q9. How your music shaped your own personality down the years?
I feel music is a conversation from the deepest part of me, that which is the true heart. Most of life seems very superficial compared to the beauty and depth found in music.
Q10. Any advice to the young and budding guitarists and our readers?
Follow your heart. Try and seek out a true guru to help shape your craft and develop yourself spiritually, afterall you can only play what you are.