Interview with Miss Kristin–a singing writer

Miss Kristin has a way with words and an emotional sultry voice unique to Miss Kristin alone. Spilling her guts and rocking out in unison come with warmth and sincerity for this compassionate singer/writer/producer.
Miss Kristin has been performing for years, and has been known to keep a cool low profile.  At times drenched by the driving rains of adversity…With each blinding flash, she comes out like a wind that blows safely weathering the storm.
Some of her best writing is birthed through this adversity. And the winds of love have covered this artist like a balmy breeze that brings showers of blessing.
Miss Kristin's vocal's are like a sweet south air soothing your soul through places you roam. Her lyrics embrace a vast account of life experience and hope, waking hidden truths, sometimes hurts, that remind us of whom we are and where we are going.
We had an email interview with Miss Kristin.
Q1. Tell us something about your early days. How you liked music and thought of picking it up as a career?
I began singing backup vocals for a friend in high school who had big dreams of starting her own band.  I got my feet wet, and I enjoyed entering talent competitions and theatre companies to learn more of the art of expression.
Q2. Tell us about your training and how you liked those days. How was the experience to devote so much time to music?
I followed my dream for a time and then needed to pursue a guaranteed income so I took a break and went to school to study Cosmetology.  I put music on the back burner for a time, but it did not last long.  I woke up one day and had a yearning to follow my passion again and this time nothing would stop me.  Slowly but surely my hairstyling career floundered and music to precedence.
Q3. How you managed studying and practicing music at the same time?
I did the best I could to balance my endeavors; although I ended up spending a lot of time on musical efforts and it became more difficult to do the rest.  A main part of my career as a musician was the fact that it included performance. I saw myself as a theatrical performer; and was disciplined with my workouts and anything that would play into my musical dream. I guess when you follow the path you are meant to take, things have a way of working out, because I always made enough money to survive and continue in my craft.
Q4. How much do you like the element of experimentation within your music? Does it help you to evolve as a musician?
Yes, I love collaborating with different artists, in fact for some time I have been working with Tom Landry as collaborator on production, and now I am about to embark on a new venture with a great musician/producer named Billy Hyatt. Billy is bringing a new and different flair to my songs, so it is very exciting to try new things and venture out a bit.  We are working on a collection called "Miss Kristin's Elephant Groove" which is a funky soul style collection!  It's very exciting to me, because it is reminiscent of the seventies yet very fitting in 2011 today!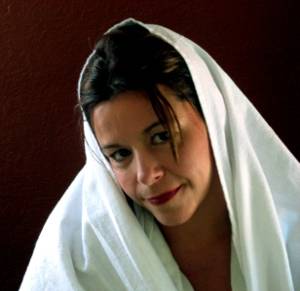 Q5. Collaborating with different artists often opens new vistas for a musician. Tell us which artists you have performed and their musical background?
Tom Landry is an accomplished multi instrumentalist who has given his whole life and self to his music.  He is a great teacher who has learned from the best, and instructs guitar you can watch him on YouTube ! I am honored to have him on my team.  You may read more about Tom at TomLandryExperience.Com
I've also had the opportunity to work with Emmanuel Selassie on "A Miss Kristin Mac Attack" which features my favorite Fleetwood Mac songs done in a Reggae Style Production. Emmanuel primarily being a Reggae artist brings a completely different style to the music and it was a fulfilling experience creating and such a pleasure to do things unexpected at times.
Q6. What do you feel is the true satisfaction point for an artist—winning awards or winning hearts? What personal satisfaction do you seek in your music?
My hope through music is to touch the soul and assist in alleviating pain, to comfort somehow.  I believe I have a gift of insight and have been known to teach and lead through writing so I guess you could say I desire to win hearts. But my true passion is to lead people to finding the spirit of God within them. To help them find their own truths.
Q7. What do you feel is the power of music on listeners?
Music has the power to heal and transform. You can be in a bad mood and with the right music, everything changes and it's all good again.
Music is an amazing powerful gift of expression and contemplation.  Music soothes the savage breast!
Q8. Tell us what else you like to do while not playing music.
Running Big Fuss Records and helping other artists find success with their music is very important to me at this point in my career.
I spend much valuable time creating and marketing, finding opportunities and connecting and bringing artists together. I've been at this a while now and have made many valuable contacts.  I feel I can use the knowledge I have attained to help others on their path. I have a leadership personality so I sleep well at night when I am helping someone make their dream come true.
Q9. How do you feel music has helped you to evolve as a better human being?
Music and writing especially has brought me through my own personal healing and that is worth more than gold for me.
Writing and producing music has helped me to be free from fear, and free to really enjoy all life has to offer.  I look forward to touring and traveling more in the time to come where I will perform and speak to help others and for the full expression of my gifts.
Q10. What message you would like to give to the readers and young aspirants of music?
Follow your heart and don't give up.  It's a new world and a new music business where it takes great perseverance.  Independent artists need to be committed to continually create and release new material that is competitive and excellent.  If you really believe you are meant to be great, you will be, just don't have your ladder up against the wrong building!