Interview with Francesco Lucarelli–an Italian singer and songwriter

Francesco Lucarelli, born and raised in Rome, Italy, is a singer-songwriter who is carefully balanced between the mellow sound of acoustic ballads and the raw side of scorching rockers. Since his debut on the historic stage of Folkstudio in Rome, he began paying his dues and honing his craft by playing both solo live sets and with various bands.
Francesco has been rewarded with a couple of major milestones, including his gigs with Billy Talbot (the bass player with Neil Young & Crazy Horse) in California during November 1988, and March 1993 and again in Italy in November 2005, and his appearance on stage with Crosby Stills & Nash during their show in Rome in 1992, when he memorably shared vocal harmonies on "Teach Your Children."
Over the years he has played not only in Italy but also in England and Hungary, as well as California. He has opened for several Italian and international artists, including Neal Casal, Jimmy La Fave, Roberto Ciotti, Ben Vaughn, John Wesley Harding, Joe Henry and Eric Andersen.
In 2007, his song "Echoes of War", selected by Neil Young for a special section of his website, was ranked #2 among the "Songs of the Times." That same year he performed at "Voci Che Chiamano", a special project to benefit Save The Children. The concert was recorded for a special limited release on DVD and CD.
In September 2010, Route 61 Music released "Find The Light", Francesco's new album of ballads, sung in English. Mixed in San Francisco by legendary producer Stephen Barncard (who mixed masterpieces like David Crosby's "If I Could Only Remember My Name" and the Grateful Dead's "American Beauty") the album was mastered in Nashville, TN.
Among the many guests, "Find The Light" features special contributions by two-time Rock 'n'Roll Hall of Fame Inductee Graham Nash, James Raymond and Jeff Pevar (David Crosby, Jackson Browne, James Taylor, Rickie Lee Jones, Ray Charles), Kenny Passarelli (Stephen Stills, Joe Walsh and Elton John), Michele Anselmi (Francesco De Gregori).
In 2010, Lucarelli appeared also on two different compilations: "For You 2 – A Tribute to Bruce Springsteen", a double Springsteen tribute album released by Ermanno Labianca's Route 61 featuring many Italian artists (from Modena City Ramblers to Daniel Groff), and on "I Like It Better Here – Music From Home", a compilation of unreleased songs which brings together major artists like Jackson Browne, Crosby & Nash, Jack Tempchin (Eagles) along with a number of talented singer-songwriters such as Jeff Larson, Greg Copeland, Steve Noonan and Anthony Crawford.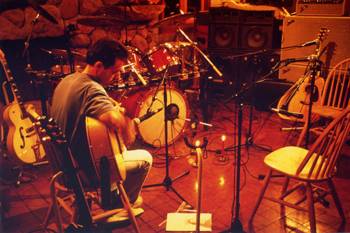 We had an email interview with Francesco.
Q1. Tell us something about your early days. How you liked music and thought of picking it up as a career?
Music has always been a big part of my life ever since I was a kid. I still remember many of the 45 rpm singles I used to play on a green portable record player when I was 4 or 5. I already had the music bug. When I was 15, I began playing and singing with Marco Martella, a very good friend of mine who I practiced the art of harmony vocals with. We sang a lot of Simon & Garfunkel stuff and  a lot of other 2-part harmony tunes. Three or four years later, I played with my first band on a real stage for the first time with a thousand people in front of me. It was a gas! I was having so much fun, I almost didn't want to leave the stage. In that very moment I felt music had called me.
Q2. Talking about singing, how it attracted you? Was there anything particular that made you think that you would like to become a singer?
Well, it all happened very naturally. I've always liked singer-songwriters and groups with multiple singers in the band: The Beatles, The Byrds, Eagles, Crosby Stills Nash & Young, Fleetwood Mac, The Band. Each singer has his or her own unique way to communicate personal feelings. And comparing them, I can't help but think no matter their different vocal qualities, what always impresses me is the way they're able to share their emotions. Being able to encapsulate a personal story in one song and share my emotions with other folks while singing was the trigger for me.
Q3. Tell us about your training and how you liked those days. How was the experience to devote so much time to music?
It was mostly home-singing with Marco. We cut our teeth singing together in our late teens. And I did a lot of practice alone in the kitchen at my parents place in those years, sitting in front of a tape-recorder and rehearsing my first songs. Listening to those recordings helped me to get better. You can't lie to a tape-recorder!
Obviously there was a lot of busking in the streets of Roma, Venice and London, and a lot of gigs in tiny clubs. But singing with my friends made me feel good and dreaming was the gasoline fueling all my music-related activities in those years. I think it hasn't changed much ever since.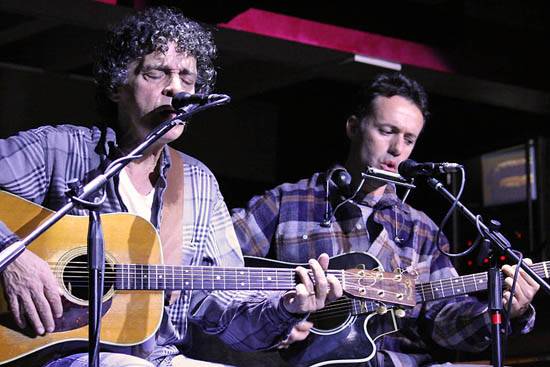 Q4. How much do you like the element of experimentation in your songs? Does it help you to evolve as a musician?
Alas, I haven't been experimenting as much as I'd like. My life isn't exactly bohemian and I have a day-job to pay the bills. So I try to keep the focus on what I want from a song when I start writing it. For instance, "The Sunset Song" has been arranged exactly as I imagined while I was writing it. "The Sunset Song" is an outtake from my album "Find The Light", which you can find a video-clip of on YouTube.
When time allows, I try to approach songs from a different perspective. For instance, I covered Neil Young's "After the Gold rush" for a tribute project and I turned it upside down but keeping an unmistakable Neil's vibe to it.
Neil recorded it as an acoustic solo piano ballad on his album. I wanted it to become something different without changing the melody or the pace and I recorded an electric version which might easily come from a Neil Young & Crazy Horse session. People loved it and even Billy Talbot, Crazy Horse bass player, was really impressed.
Q5. How does it help to write your songs to understand the depth that you want to convey as a singer?
Well, writing a song might bring you to a multi-layer world. It might be very simple and direct when you just let your emotions flow and you feel like you're modeling clay with notes, words and musical changes in a timeless stream of consciousness. Other times you want to create something more subtle. This second process takes more time and I go back to my lyrics and re-write them until I found myself where I'd like to bring the listener. And this is the very process which makes you think about the deeper meaning you want to entrust to your lyrics.
Q6. Collaborating with different artists often opens new vistas for a musician. How do you feel about such a collaboration?
Music is friendship. Music is sharing. I cannot think of making music without exchanging emotions with others. Collaborating with other artists is like experimenting with chemical elements: suddenly a fire can start from any little spark and bring you to the unexpected and the unexplored. That's very exciting!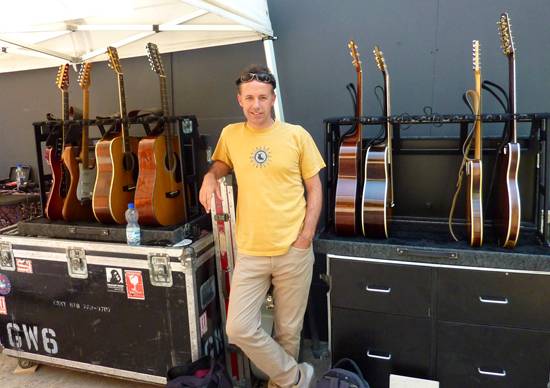 Q7. What do you feel is the true satisfaction point for an artist—winning awards or winning hearts? What personal satisfaction do you seek in your music?
I feel music is all about the heart. You don't start making music because you plan to win an award. You just do it to express yourself. And if somewhere down the road you're lucky to win an award, that would only mean you're doing a good job and you've been able to get to the heart of a lot of people.
If I'm able to make anyone feel good with my songs, even just one single person, that's what matters the most to me. But today the most rewarding thing is hearing my kids singing the chorus of some of my songs while they play in their room.
Q8. Which one you prefer more—singing on stage or in recording in a studio?
I like singing live. You never know what's going to happen and that's what makes it interesting. You can't play safe like in a studio. On stage there is no second take. It might be frightening for someone, but I find it exciting.
Q9. Tell us what else you like to do while not playing music.
I love photography. I like taking pictures, especially portraits of other musicians. And I like concert photography. I think somehow I have an advantage over other photographers who shoot at concerts. I have the eye of the photographer but I think as a musician. This puts me in the position of outguessing the performer and be ready when the decisive moment comes.
Q10. Do you feel music has helped you to evolve as a different person altogether than you otherwise would have been?
Definitely! All the people music has put me in touch with certainly had an effect on myself and on my life. I'm like a sponge: I like to learn from others' experiences and music multiplied these opportunities. Having the chance to be in touch with people from many European countries, from the United States and Canada, from Japan, from Down Under and now from India makes me feel I am a citizen of the world. I feel like I belong to planet Earth and I don't mind about borders, colors, religions. That's the power of music.
Q11. What message you would like to give to the readers and young aspirants of music?
If music is what you live for, do not confuse it with what you do to survive. Keep following your dream and do what you can to keep it alive. Don't give up and you will be rewarded.
More about Francesco and his music on www.francescolucarelli.com