Review of Rest & Relax With Piano By Fiona Joy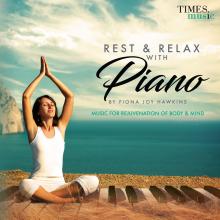 Album Name: Rest & Relax with Piano
Artist Name: Fiona Joy
Language: English
Genre: Wellness
Owner: Times Music
I have been dreaming of this day for long–Indian people using Western classical instrumental music for wellness and meditation. This almost sounds paradoxical because many in their own imaginative world believe that only Indian classical music is fit for such activities, yet there is much that Western music instruments and artists can offer to this industry. Times Music deserves commendation is bringing Fiona Joy's music to the Indian audience who love listening to music with Yoga, meditation and other wellness activities.
Listening to piano in an instrumental music does not come naturally to Indian audience because it is nurtured more on heavy beats. However, when it comes to relaxation, stress-busting, and meditataion, piano is a wonderful instrument to listen to. It has great range, depth and a unique timbre in its sound that can penetrate deep within the listener. And Fiona is an artist who captures these elements so beautifully that you can listen to her album many times. I have heard her music earlier too and brings me so much joy to be able to write about the Indian avatar of her music!
There are 10 tracks in the album and every one of them is worth the stillness of your mind. The music is best suited for people who work continuously under stress living in crowded metro cities, and want to escape in a world of peace and tranquility. They can simply close their eyes while relaxing on a chair or any kind of yoga pose if they prefer so, and can let the music of this album sweep over their body like a balming wind. They will feel a huge burden taken off of them.
Many tracks have vocals added to them by Fiona and also by other artists, which are like the different flavors of bliss. I must warn you that some of you may get goose bumps!
I enjoyed every track bringing freshness and new sense of awareness, and wish the same for the listeners.
Do share your experience if you choose to download or buy the album. You can download or buy the album from this link on TimesMusic website: http://www.timesmusic.com/album/wellness/rest-and-relax-with-piano-5020.html
| | |
| --- | --- |
| Track Name | Duration |
| Ceremony | 03:44 |
| Grace | 05:39 |
| Fair Not | 04:18 |
| Once Upon Impossible | 04:22 |
| Calling Earth | 04:05 |
| Invisible Train | 03:43 |
| Grace (Chill Version) | 04:29 |
| Signature | 02:40 |
| From the Mist | 05:18 |
| Little Star | 04:55 |