CD Review of Sisu by Jennifer DeFrayne

While listening to this album, I came to know about the incredible story of Jennifer, which is so inspiring and soul-stirring. Facing difficulties in life is everybody's lot; to maintain the creative instinct is a gift given to only a few. Jennifer has risen above the hardships that her life brought to her, and she smelted all of them–what you receive in the form of her music is pure gold carrying the shine and beauty of her soul. She has truly embodied the spirit of Sisu!
Intense and celebrating; recondite and meditative!
This is how I'd like to describe this album in one line. It's magical and makes you emotional in many ways.
Album Name: Sisu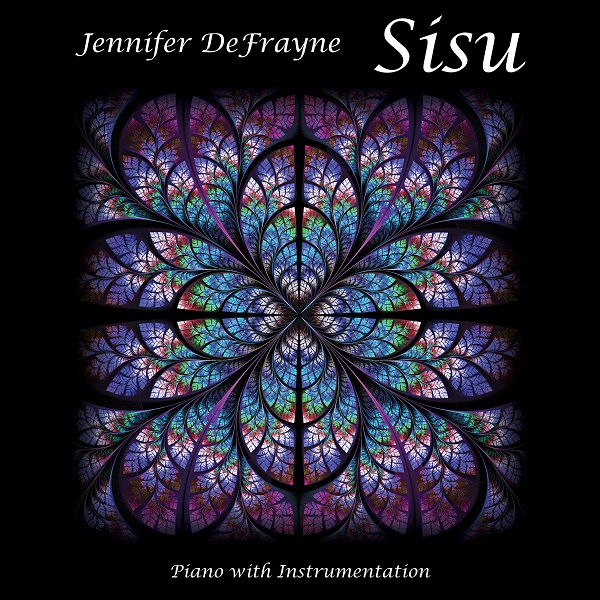 Artist Name: Jennifer DeFrayne
Total Time: 58:50
In the recent years, I have been exposed to piano music. I won't say I understand the instrument now. However, music does not require any kind of special training if you have the feel for it–as they say, music is the native language of every human being. It does not need to be taught. We pick up music on our own. I can understand Jennifer's music at a deeper level just because it's so beautiful, and sounds native to my soul.
Piano, being a grand instrument, has the capacity to render different emotions with equal brilliance. The virtuosity of a pianist lies in producing those sounds with ease. Jennifer has done that beautifully. She has offered the listeners an amazing collection of spirited songs. To know that she is self-taught corroborates what I mentioned earlier that music is native to every human being. Yet, there is no taking away the hard work she has put in, and the sheer determination that kept her going through difficulties to keep her heart singing and ringing with music.
I must mention that the album might have carried a totally different message if the accompanying artists were not there. They have added many layers to the music, and rendered a totally unique dimension to it. For the sake of sounding modern and bit zippy in my review, I would say the combination is a 'killer'!
Almost every song of this album has some celebratory moments, which epitomizes the spirit of Sisu. Perseverance brings success. As the music goads you, inspires you to hold your ground, it also makes you realize that you will emerge a winner and not a loser. I just love this aspect of this album.
I invite you to lose yourself–yes, just 'let go'. Float with the music, and you will feel that the heaviness that bogs down your heart was never there. Just lose the doubting mind, and let the spirit of this powerful music fill your heart with native lullabies, and give you strength.
| | |
| --- | --- |
| Track Name | Duration |
| Fire Island | 05:49 |
| Be Who You Are | 04:19 |
| Sisu | 07:17 |
| Beyond | 05:19 |
| Gathering | 03:55 |
| Palo Santo | 06:21 |
| Roots | 03:38 |
| Stepping Stones | 05:02 |
| Equanimity | 04:41 |
| Internal Light | 03:23 |
| Renew | 03:41 |
| Perseverance | 05:25 |