Review of Even For A Moment by Gary Schmidt

When I picked up this album, looking at the title, the first expectation that arose in my mind was of a very passionate music–kind of a romantic ache that yearns to get a glimpse of the beloved even for a moment. Well, I was not disappointed in the least, though the album carries an entirely different theme. It has that meditative undercurrent that presents itself at the service of the listener if he/she gets the inner peace even for a moment.
Reading about Gary Schmidt and listening to his music, you can quickly notice that the original bent of the composition is to bring peace–every piece on the album has a message that tries to prompt the listener to connect to his/her inner self.
Well, it is not an easy task, but music has been and is the most profound tool given to mankind that can help to achieve it. The artistry lies in creating such kind of music and Gary has been successful at it.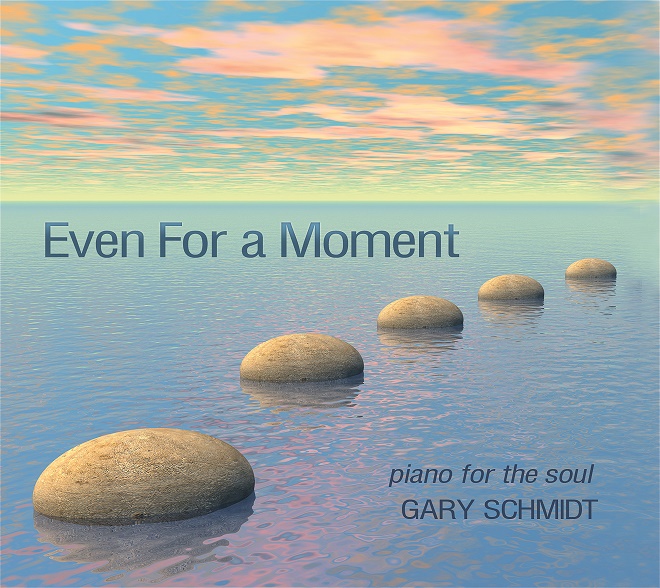 Album Name: Even For A Moment
Artist Name: Gary Schmidt
Total Time: 53:48
The album contains 14 songs in total out of which 12 are originally composed by Gary. Track no. 6 and 13 are classical compositions.
The subtlety and the nimble power to carry you along is present in almost every song. This album is not to be listened to casually–better ready yourself for a deep and intimate experience.
'The Breath At Dawn' is a beautiful piece combining flute and piano. The layers of bass flute make it hauntingly beautiful. In fact, it is my favorite song of the album.
The title song has deep cello layers playing while the piano picks up the tempo a bit–a very balanced song, indeed.
The track 'No Better Gift' has that medieval touch to it rendered by the flute.
'Sub Tide' is another wonderful composition accompanied by the guitar, marked with a distinct rhythmic tune.
The album lies on the brink of minimalism–a kind of a unique music which does not carry the paraphernalia of multiple instruments to create a celebratory effect or try to take the mind on a mindful meditative path. It carries the bare minimum sound strings that are needed you to pay attention to yourself–a call that exhorts you to jerk off the noise and put some effort to reach the soundless realm of your self. Of course, not an easy task to do, but the reward is worth it.
Gary has delivered the promise the album carries with its name–Even For A Moment!
| | |
| --- | --- |
| Track Name | Duration |
| If This Is the Time | 02:52 |
| Inside This River | 05:23 |
| Face That Lights My Face | 02:42 |
| A Train Leave the City | 02:51 |
| The Breath At Dawn | 04:15 |
| Minuet in G Minor | 03:33 |
| Even For A Moment | 03:49 |
| Sub Tide | 03:58 |
| Simply By Looking | 03:07 |
| Crescent Light | 02:24 |
| The Light Seems to Move | 04:33 |
| No Better Gift | 04:30 |
| Adagio for Strings | 06:25 |
| Postlude To A Moment | 02:44 |