People Passing Through–New Album by The Song Gardeners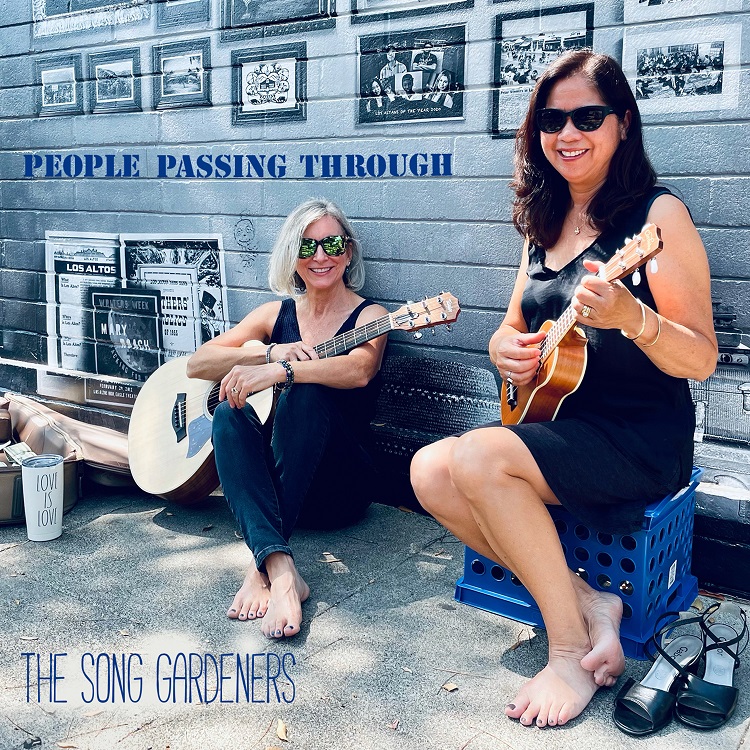 Living each day in the moment
We're stepping together in time
Offering a lifetime of knowledge
To those we leave behind
What beautiful thoughts these words carry and how contextual they are to the reality of life, especially in the times when everything seems uncertain! The Song Gardeners are releasing their full-scale album comprising eight songs, which include seven previously released singles and the new one–People Passing Through.
I had the chance to review some of these singles on this website and I am reminded of the energy, thoughtfulness, and effort that was put into creating those songs, laden full with meaningful lyrics and carrying the lightness of soulful music. Like philosophy that made you dance!
Album Name: People Passing Through
Artist Name: The Song Gardeners
Total Time: 33:04
The album opens up with their latest single "Harmony of Contrast". As I said earlier, it's a very unique piece that is effortlessly hitting the goal. It brings home the idea of celebrating life with all of its diversity, instead of becoming stagnant and forcibly trying to color it with one's own opinion.
"Love Is The Magic Of Change" runs for over four minutes. It carries the message of the universality of love with the sweetness of music, balancing the lyrics beautifully.
Right on the spot! No qualms, no confusing treatment, no extra shining–just a direct, succinct, and an open call to everybody to 'chill,' and leave this uneasy and unsettling stagnation that we are right now in. Yes, this is what I got when I tuned to the "Altered State".
Filled with a soothing ambiance and positive words, "Love Flows" brings a sense of rest to the mind. Almost jazz in its genre, this 'chill' music is up for grabs for peeps who are fed up with all the tantalizing news and social media tinsel that covers the inner shine.
"Reveal" is an empowering call for all humanity and especially women to step up and realize their full potential.
The title song, "People Passing Through", previously unreleased carries the almost trademark beauty of words and chill music. Sung by Corrie Dunn and soulful harmonies offered by Mary Gospe, the song carries the poignancy and fluidity with such poise.
"People Passing Through" from Mary Gospe on Vimeo.
The next one is the rendition of the famous chant "Sabbe Satta Sukhi Hontu". The mood of this song is oriented towards prayerfulness. It invites you to immerse yourself in the flow.
The last song, "Warrior of Light", falls in the category of chill but I feel there is a hint of jazz and lounge music, though the lyrics make it truly a grand piece–something that can be played in a stadium or an auditorium–imagine a whole lot of people swaying with both hands raised and singing it aloud, pledging to themselves that they won't be bogged down by the adversity but will rise and succeed! Incidentally, the song was released on the occasion of the presidential inauguration in the US, January 21, 2021, as a single.
As you would notice, the undercurrent of every song is love and peace, addressed to every individual who can hustle to find these two basic principles of life running through every moment–of course, we will be facing adversity and challenges, loss and dejection, but there is no need to lose hope. Life is meant to be a struggle and we should be prepared enough to find our way to inner peace.
The album, though just over half an hour in length, carries this message quite emphatically. I invite all the listeners to spend some quality time with the album and let the message sink in deep, empowering you to do well in your life through rejuvenated passion and focus.
| | |
| --- | --- |
| Track Name | Duration |
| Harmony of Contrast | 03:36 |
| Love Is The Magic Of Change | 04:09 |
| Altered State | 04:15 |
| Love Flows | 04:21 |
| Reveal | 04:54 |
| People Passing Through | 03:36 |
| Sabbe Satta Sukhi Hontu | 04:16 |
| Warrior of Light | 03:57 |